Publication:
Género, Cultura y Desarrollo: Límites y oportunidades para el cambio cultural pro-igualdad de género en Mozambique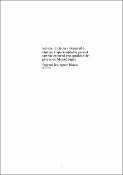 Authors
Advisors (or tutors)
Editors
Publisher
Instituto Complutense de Estudios Internacionales (ICEI)
Abstract
Los programas y proyectos de cooperación al desarrollo dirigidos a promover la igualdad de género encuentran, con frecuencia, límites que reducen la eficacia de sus objetivos. Entre esos límites se identifican los que son considerados como barreras culturales y que no son más que resistencias al cambio cultural en pro de la equidad e igualdad de género. El análisis sobre las dinámicas de los cambios culturales, a través del análisis de caso en Mozambique, nos ofrece las claves para identificar los actores y los argumentos que, por un lado, dinamizan cambios culturales y que, por otro lado, colocan mayores resistencias al cambio cultural pro-igualdad de género. Así reconocemos cómo las relaciones de poder que están en la base de la desigualdad de género son, al mismo tiempo, determinantes para impedir que esa desigualdad se reduzca o desaparezca a través de la acción de proyectos o programas que son tachados de poca sensibilidad cultural.
The development cooperation programs and projects which aim to promote gender equality frequently face restrictions which reduce the effectiveness in meeting their objectives. Among these restrictions, we identify several which we regard as cultural barriers; these are, in fact, resistances towards cultural change for gender equality and equity. The analysis on cultural change dynamics, through the case study of Mozambique, provides the key factors to identify the people and the arguments that, on one hand, promote cultural changes while, on the other hand, offer the strongest resistance to cultural change for gender equality. Therefore, we recognize that power relations are the basis of gender inequality, as well as being decisive factors to prevent the reduction of inequality through the action of programs and projects, which are deemed as having low cultural sensitivity.
Citation
Antonio, Alexandre e Lúcia Laurentina Omar (2007). Alguns usos e costumes matrimoniais dos povos Yao e Nyanja da província do Niassa. Lichinga. Development Cooperation Ireland. Bonfil, Paloma y Raúl Marco del Pont (1999) Las Mujeres Indígenas al final del Milenio. FNUAP/CONMUJER, México. Chitsike, C. (1995) "NGOs, gender, culture and multiculturalism: a Zimbabwean view" in Gender and Development. 3(1): 19-24. Cobo, Rosa y de Miguel, Ana (1998) "Diversidad Cultural y Multiculturalismo" En Amnistía Internacional: La mutilación genital femenina y los derechos humanos Edai, Madrid. Comité de Ayuda al Desarrollo (CAD-OCDE) (1998). "Cultura e Igualdad entre Hombres y Mujeres" en Directrices y Guía de conceptos del CAD sobre la igualdad entre Mujeres y Hombres. Ministerio de Asuntos Exteriores. Madrid. Comaroff. Jean and John, L. (1999) "Occult economies and the violence of abstraction: notes from the South African postcolony" In American Ethnologists. Pp 279-303. Cowan, Jane K (2006) "Culture and Rights after Culture and Rights" In American Anthropologis. Vol 108. Pp 9-24. De Haas, M. (1987) "Is there anything more to say about Lobolo?" African Studies. Nº 46. 1. Pp.33-54. Hernández, Rosalva Aída y Sierra, Teresa (2002) "Repensar los derechos colectivos desde el género: aportes de las mujeres indígenas al debate de la autonomía" en Martha Sánchez Néstor (Coord). La doble mirada: voces e historias de mujeres indígenas latinoamericanas. UNIFEM e Instituto de liderazgo Simone de Beauvoir. Iwanka Raya, Mairin (2006) "Mujeres Indígenas confrontan la violencia". Foro Internacional de Mujeres Indígenas. FIMI. Jolly, Susie (2002) "Género y Cambio Cultural: Informe General" In Bridge: Development and Gender. Institute for Development Studies. University of Sussex. Brighton. Kelleher, David (2003) "Um modelo para mudanças na igualdade do genero" Concept paper. Encontro de Genero em Cartum, Sudán. 5-9 Dezembro. Merry, Sally Engle (2001) "Changing Rights, Changing Culture" In Culture and Rights: Anthropological Perspectives. Jane K. Cowan, Marie Benédicte Dembour, and Richard A. Wilson, eds Pp.31-55. Cambridge University Press. Merry, Sally Engle (2003) "Human Rights and the Demonization of Culture" In Polar: Political and Legal Anthropology Review. 26:1. Pp 55-77. Wellesley College. Merry, Sally Engle (2006) "Transnational Human Rights and Local Activism: Mapping the Middle" In American Anthropologist. Vol.108. Pp 38-51. Mehta, M (1991) "Gender, Development and Culture" en T.Wallace y C. March (eds.) Changing Perceptions: Writings on Gender and Development. Oxfam. Oxford. Mohanty, C.T. (1988) 'Under Western Eyes. Feminist Scholarship and Colonial Discourses' in Feminist Review, no 30. Moser, C (1989) "Gender Planning in the Third World Meeting Practical and Strategic Gender Needs" World Development. Vol. 17. Nº11. Pp.1799-825. Moçambique. Lei da Família/Lei.n10/2004 de 25 de Agosto. Moçambique. Lei de Terras/Lei.n19/1997 de 1 de Outubro. Mukhodophyay, M. (1995) "Gender relations, development practice and culture" in Gender and Development. Vol 3. Nº1 Oxfam. Oxford. Murguialday, Clara (2005) "Género, Cultura y Desarrollo" en Diccionario de Acción Humanitaria y Cooperación al Desarrollo. http://dicc.hegoa.efaber.net/ Hegoa. Bilbao. Okin, Susan Moller (1999) "Is multiculturalism bad for women? In is Multiculturalism bad for women? J.Cowen, M. Howard, and M.C.Nussbaum, Eds Pp 9-24. Princeton: Princeton University Press. Oxfam (1995) Gender and Development, Edição sobre Mulheres e Cultura, Vol 3, No 1, Fevereiro. Revers, Hazel and Baden, Sally (2000) "Gender and Development: Frequently asked questions" In Bridge: Development and Gender. Institute of Development Studies. University of Sussex. Brighton. Schalkwyk, Johana (2000) "Culture, Gender Equality and Development Cooperation" Canadian International Development Agency (CIDA) www.acdi-cida.gc.ca Soetan, R.O. Culture, Gender and Development. Senegal. 2001, 34Pp. Tripp, Aili Mary (2002) "The politics of women's rights and cultural diversity in Uganda" in Molyneux, Maxine y Shahra Razavi (eds.) Gender Justice, Development and Rights. Oxford University Press. Oxford. WLSA-Moçambique (2000) The Justice Delivery System and the Illusion of the Transparency. Maputo. WLSA-Moçambique (2001) Poder e Violência: Homicídio e Femicídio em Moçambique. Maputo. WLSA e Centro de Estudos Africanos (UEM) (1998). "A mulher e a lei na África Austral: Investigação e Educação. Famílias em Contexto de Mudanças em Moçambique". Maputo. Young, K. (1993). Planning Development with women: making a world of difference. London Macmullan Press.