Publication:
Monitorización multi-paramétrica de la Falla de Alhama de Murcia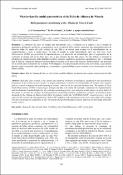 Advisors (or tutors)
Editors
Publisher
Sociedad Geológica de España.
Abstract
La obtención de datos en tiempo real relacionados con la evolución en el espacio y en el tiempo de parámetros geológicos, geofísicos y geoquímicos en la cercanía de fallas activas constituye una oportunidad única de observar todas las partes del ciclo sísmico de una falla y es crucial para avanzar en el entendimiento de su comportamiento a corto y medio plazo. En todo el mundo se están desarrollando cada vez más Near Fault Observatories (NFO) que permitirán la implementación y el desarrollo de metodologías para el seguimiento de la evolución en tiempo real de las fases pre-, sin- y post-sísmicas de una falla activa. En este trabajo se presenta la estrategia de monitorización multi-paramétrica (datos sísmicos, geofísicos, geodésicos, geoquímicos, etc…) diseñada para la falla de Alhama de Murcia (Cordillera Bética Oriental) en el marco del proyecto "InterGeoSima" que pretende ser la semilla para el desarrollo de un futuro NFO adaptado a las especificidades de una falla activa lenta, y que además permita seguir extrayendo datos geológicos, estructurales y geomorfológicos para avanzar en el conocimiento de esta fuente sísmica.
Real-time data related to the spatial and temporal evolution of geological, geophysical and geochemical parameters in the vicinity of active faults is a unique opportunity to observe the and quantify the seismic cycle of faults and it is crucial to improve the understanding of seismic behavior in the short and medium term. The number of Near Fault Observatories (NFO) is increasing in Europe and they will enable the scientific community the implementation and development of methodologies for the real-time monitoring of pre-, syn- and post-seismic phases of active faults. In this paper we present the strategy of multi-parametric monitoring (seismic, geophysical, geodetic, geochemical data) designed for the Alhama de Murcia Fault (Betic Cordillera) within the "INTERGEOSIMA" research project, with the aim to be the seed for the development of a future NFO adapted to the specificities of an slow active fault. This strategy will also encourage the acquisition of new, structural and geomorphological data to improve the knowledge about this seismic source.
Collections