Publication:
Diagnóstico y propuesta de un plan de comunicación para la Universidad Católica de Cuenca (UCACUE), Ecuador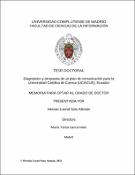 Files
Authors
Advisors (or tutors)
Editors
Publisher
Universidad Complutense de Madrid
Abstract
Las universidades experimentaron importantes cambios en el Ecuador durante los últimos años. En este entorno emergieron decisiones marcadas por las políticas gubernamentales canalizadas a través de la Ley Orgánica de Educación Superior (LOES). Se trata de directrices que procuraron presentar a la universidad como una organización al servicio de la colectividad. En ese intento por mejorar esta casa de estudios, los medios y planificación de la comunicación desempeñan una labor muy importante como agentes difusores. Si bien ya se han realizado varias indagaciones y se han escrito algunos artículos científicos sobre las universidades, hasta el momento no se ha estudiado en profundidad la planificación estratégica de comunicación para mejorar su relación los públicos de interés que hacen parte de la sociedad ecuatoriana. Entonces, la presente investigación respondió a estas incertidumbres de la universidad con estos públicos y sobre cómo debe gestionarse la comunicación en el modelo de universidad que propone el sistema ecuatoriano. Este proyecto se propuso diagnosticar la comunicación de la Universidad Católica de Cuenca (UCACUE) y, en base a esa realidad detectada, elaborar la propuesta de un plan de comunicación que incluya las estrategias y acciones más adecuadas al modelo de universidad ecuatoriana...
Universities have undergone essential changes in Ecuador in recent years. In this context, decisions emerged marked by government policies focused on the Organic Law of Higher Education (LOES-in Spanish). These guidelines tried to present the University as an organization at the service of the community. In this attempt to improve these institutions, the media and communication planning play a crucial role as diffusing agents. Although several inquiries have already been made and some scientific articles have been written about universities, so far, the strategic planning of communication to improve their relationship with those audiences who are part of Ecuadorian society has not been studied intensely. Therefore, this research responded to the university's uncertainties with these elements and primarily how communication should be managed in the University model proposed by the Ecuadorian system. This project proposed to diagnose the communication of the Universidad Católica de Cuenca (UCACUE-in Spanish). Then, based on this detected reality, develop a proposal for a communication plan that includes the most appropriate strategies and actions for the Ecuadorian university model..
Description
Tesis inédita de la Universidad Complutense de Madrid, Facultad de Ciencias de la Información, leída el 10-02-2022
Collections