Publication:
Egyptian foreign policy (special reference after The 25th of January Revolution)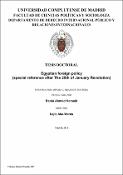 Files
Authors
Advisors (or tutors)
Editors
Publisher
Universidad Complutense de Madrid
Abstract
The main goal of this research is to analyze how Egypt defined its national interest during the course of its modern history, since the termination of the monarchy in the country in the year 1952. As well it identify how it used its foreign policy as a pivotal middle power in the middle east region to promote this interest throughout these years with a special focus on the foreign policy after two consecutive revolutions in the 25th of January 2011 and 30th of June 2013, until this recent moment. The objective of this research is achieved through the conduction of a comprehensive and detailed assessment for the Egyptian foreign policy over the past six decades. It will examine external relations of the country since the founding of the first republic, until the establishment of the third republic under the current president Abdel Fattah Al-Sisi, the second elected president in a row, which succeeded in ending the Muslim brotherhood regime in the country. This research will particularly focus on the changes that took place in the Egyptian foreign policy in the aftermath of the Arab spring uprisings that erupted in the Middle East region in the year 2011. The Egyptian revolution that toppled the 30 years old Mubarak regime, aspired at accomplishing the principles of freedom, dignity and social justice within the Egyptian society. The demands of this revolt have concentrated on achieving internal reforms essentially; it did not mention foreign policy in relation to the demands of the protest groups...
El objetivo principal de esta investigación es analizar cómo Egipto definió su interés nacional durante el curso de su historia moderna, desde la terminación de la monarquía en el país en el año 1952. También identifica cómo utilizó su política exterior como una potencia central en la región del Medio Oriente para promover este interés a lo largo de estos años con un enfoque especial en la política exterior después de dos revoluciones consecutivas en el 25 de enero de 2011 y el 30 de junio de 2013, hasta este momento reciente. El objetivo de esta investigación se logra a través de la realización de una evaluación completa y detallada de la política exterior egipcia durante las últimas seis décadas. Examinará las relaciones exteriores del país desde la fundación de la primera república, hasta el establecimiento de la tercera república bajo el actual presidente Abdel Fattah Al-Sisi, el segundo presidente electo consecutivo, que logró poner fin al régimen de Hermandad Musulmana en el país. Esta investigación se centrará en particular en los cambios que tuvieron lugar en la política exterior egipcia a raíz de los levantamientos de la Primavera Árabe que estallaron en la región de Oriente Medio en el año 2011. La revolución egipcia que derrocó al régimen de Mubarak de 30 años, aspiró a cumplir los principios de libertad, dignidad y justicia social dentro de la sociedad egipcia. Las demandas de esta revuelta se han concentrado en lograr esencialmente reformas internas; No mencionó la política exterior en relación con las demandas de los grupos de protesta...
Description
Tesis inédita de la Universidad Complutense de Madrid, Facultad de Ciencias Políticas y Sociología, Departamento de Derecho Internacional Público y Relaciones Internacionales, leída el 05/07/2017
Collections