Publication:
Criterios de fragilidad en mayores tras una intervención dirigida al control ponderal y cambios en el estilo de vida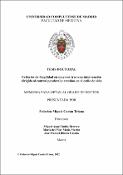 Files
Authors
Editors
Publisher
Universidad Complutense de Madrid
Abstract
En los últimos años el interés por profundizar en síndromes como la fragilidad se ha hecho evidente. Pero lo más interesante es reconocer esta entidad en todo abordaje de enfermedad, especialmente crónica, donde a menudo pequeñas intervenciones consiguen mejoras en diferentes dominios. Este hecho es especialmente interesante en el ámbito de la comorbilidad, que favorece la vulnerabilidad del individuo, no solo desde un punto de vista médico sino también considerando la esfera psicológica, funcional e incluso psicosocial. Por ello, diferentes autores han profundizado en el término fragilidad, entendiéndola como un estado clínico en el que se detecta una especial vulnerabilidad frente a factores estresantes exógenos, pero también endógenos. Es de destacar que un mismo estímulo puede tener consecuencias diferentes en los individuos en función de su susceptibilidad. Son muchas las aproximaciones que se han hecho sobre esta entidad. La más clásica se ha basado en una descripción de fenotipos, aunque desde un punto de vista práctico la aplicación de cualquier medida debe considerar el contexto de su aplicación, práctica clínica o entorno de investigación. Probablemente uno de los aspectos más atractivos es considerar la fragilidad como algo dinámico. Esta aproximación permite establecer medidas preventivas y terapéuticas con el objeto de retrasar o incluso revertir estas situaciones. En este trabajo la intervención se basa en la aplicación de un modelo de dieta saludable denominada dieta mediterránea (DietMed) sobre un grupo de individuos, que además presentan síndrome metabólico, con el objetivo de valorar su efecto sobre progresión y regresión de fragilidad o su fase previa denominada prefragilidad...
In recent years the interest in syndromes such as frailty has become evident. The most interesting aspect is to recognize this entity in the approach to chronic disease, where small interventions achieve real improvements in different domains. This fact is especially interesting in topics like comorbidity, which favors the vulnerability of the individual, not only from a medical point of view but also considering the psychological, functional, and even psychosocial domains. Different authors have published about fragility, understanding it as a clinical state in which a special vulnerability to exogenous and endogenous stressors is detected. It is noteworthy that the same stimulus can provoke different consequences in the individuals depending on their susceptibility.There are many approaches about this topic. The most classic has been based on a description of phenotypes, although from a practical point of view the application of any measure must consider the context of its application, clinical practice, or research. One of the most attractive aspects is to consider frailty as a dynamic conception. This approach allows to establish preventive and therapeutic measures to delay or even reverse these situations. In this work, the intervention is based on the application of a healthy diet model, called Mediterranean diet, on a group of individuals who also have metabolic syndrome, with the aim of assessing its effect on progression and regression of frailty or its previous phase called prefrailty...
Description
Tesis inédita de la Universidad Complutense de Madrid, Facultad de Medicina, leída el 30-05-2022
Collections