Publication:
Estudio de los cambios en la calidad visual y en la superficie ocular en ortoqueratología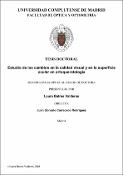 Files
Authors
Advisors (or tutors)
Editors
Publisher
Universidad Complutense de Madrid
Abstract
Las lentes de contacto de ortoqueratología modifican la estructura del epitelio corneal y por consiguiente sus propiedades ópticas. Hoy en día se acepta que esta modificación en el espesor epitelial es debida a las fuerzas hidrodinámicas que ejerce la lágrima que queda entre la lente de contacto y la cara anterior de la córnea del paciente. Por eso es de importancia conocer los cambios que se puedan producir con el uso de lentes de contacto de ortoqueratología de diseño esférico y tórico y con ello poder asegurar el éxito de los casos que van a someterse al tratamiento. Este trabajo de investigación se dividió en dos partes. La primera parte fue estudiar la relación entre el astigmatismo y la elevación corneal en una población sana. Para ello se realizó un estudio retrospectivo, comparativo y observacional de una muestra de 305 pacientes sanos. En la práctica clínica esta relación condiciona el diseño de lente de ortoqueratología a adaptar minimizando los tiempos de selección y adaptación para así mejorar los resultados ópticos. Se encontró que el astigmatismo corneal y la diferencia de elevación corneal tienen una fuerte correlación y, por lo tanto, la diferencia en la elevación entre los meridianos principales se puede estimar a partir de la magnitud del astigmatismo corneal. Esto puede ser especialmente útil para la selección del diseño de lentes de ortoqueratología, principalmente con diseños tóricos cuando a priori la elección de esta geometría no está indicada en las guías de adaptación de los fabricantes. Además, la asimetría significativa entre la elevación nasal y la temporal encontrada podría explicar la tendencia de la lente de contacto a descentrarse en algunas adaptaciones...
Orthokeratology contact lenses modify the structure of the corneal epithelium and consequently its optical properties. It is now accepted that this modification in epithelial thickness is due to the hydrodynamic forces exerted by the tear remaining between the contact lens and the front of the patient's cornea. Therefore, it is important to know the changes that can occur with the use of orthokeratology contact lenses of spherical and toric design and thus be able to ensure the success of the cases to be treated. This research paper was divided into two parts. In the first part, the relationship between astigmatism and corneal elevation in a healthy population was studied. A retrospective, comparative and observational study of a sample of 305 healthy patients was conducted. In clinical practice, this relationship conditions the design of orthokeratology lenses, minimizing selection and fitting times in order to improve optical results. It was found that corneal astigmatism and corneal elevation difference have a strong correlation and, therefore, the difference in elevation between the main meridians can be estimated from the magnitude of corneal astigmatism. This can be especially useful for the selection of orthokeratology lens design, especially with toric designs when the choice of this geometry is not initially indicated in the manufacturers' fitting guides. In addition, the significant asymmetry between nasal and temporal elevation found could explain the tendency of the contact lens to be off-centre in some fittings...
Description
Tesis inédita de la Universidad Complutense de Madrid, Facultad de Óptica y Optometría, Departamento de Optometría y Visión, leída el 30/09/2020
Collections