Publication:
Polímeros orgánicos conjugados: desde sistemas lineales a redes orgánicas covalentes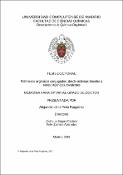 Files
Authors
Advisors (or tutors)
Editors
Publisher
Universidad Complutense de Madrid
Abstract
El campo de los polímeros conjugados ha experimentado un espectacular desarrollo en los últimos cincuenta años, aunque no fue hasta 1977, cuando Alan J. Heeger, Alan MacDiarmid y Hideki Shirakawa llevaron a cabo el dopaje en fase gaseosa de películas de poliacetileno que daba como resultado cambios dramáticos en las propiedades electrónicas, eléctricas, magnéticas, ópticas y estructurales de las mismas. A partir de ese momento, la combinación de las propiedades semiconductoras y la posibilidad de dopaje, junto con las características de los plásticos convencionales como son su facilidad y bajo coste de producción, flexibilidad, baja densidad, procesabilidad y buena estabilidad térmica y química, han atraído la atención de la comunidad científica, la cual ha realizado un gran esfuerzo sintético en el desarrollo de nuevos tipos de polímeros orgánicos conjugados semiconductores.Todo ello ha posibilitado que los polímeros conjugados encuentren aplicaciones en áreas tan diversas como sensores, transistores, dispositivos electrocrómicos, fotodetectores, así como dispositivos (opto)electrónicos entre otros. Sin embargo, aunque después de varias décadas de investigación se han conseguido grandes avances en el control de sus propiedades ópticas y electrónicas, la fabricación de dispositivos electrónicos competitivos sigue representando un gran reto debido principalmente a la falta de control sobre su estructura y orientación en la nanoescala. El desarrollo de las redes orgánicos covalentes bidimensionales o COFs 2D podría llegar a ser una alternativa viable para afrontar dichos desafíos de la tecnología de polímeros semiconductores...
The field of conjugated polymers has undergone a spectacular development in the last fifty years. However, it was not until 1977 when Alan J. Heeger, Alan MacDiarmid and Hideki Shirakawa carried out the gas phase doping of polyacetylene films which resulted in dramatic changes in the electronic, electrical, magnetic, optical and structural properties of conjugated polymers. Since then, the combination of semiconductor properties and the possibility of doping, along with the characteristics of conventional plastics such as its easy and low cost production, flexibility, low density, processability and good thermal and chemical stability, have attracted the attention of the scientific community, which has made a great synthetic effort in the development of new types of semiconducting organic conjugated polymers.All these efforts have enabled the possibility of finding applications for conjugated polymers in different areas including sensors, transistors, electrochromic devices, photodetectors, as well as (opto)electronic devices among others. However, although considerable advances have been made in the control of its optical and electronic properties after several decades of research, the manufacture of competitive electronic devices continues to be a major challenge, mainly due to the lack of control over its structure and orientation at the nanoscale. The development of two-dimensional covalent organic networks or 2D COFs can be envisaged as a viable alternative to address these challenges of semiconducting polymer technology...
Description
Tesis de la Universidad Complutense de Madrid, Facultad de Ciencias Químicas, Departamento de Química Orgánica I, leída el 07-07-2017
Collections