Publication:
Estudios sobre la evolución doctrinaria y legislativa del delito de tráfico de influencias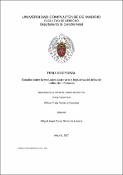 Files
Authors
Advisors (or tutors)
Editors
Publisher
Universidad Complutense de Madrid
Abstract
El presente trabajo titulado "Estudios sobre la evolución doctrinaria y legislativa del delito de tráfico de influencias", es el resultado de una ardua labor de investigación científica, basada en el conocimiento y la información recogida de la doctrina penal, la jurisprudencia y el Derecho Comparado, con el objeto de profundizar y consolidar un estudio científico sobre la esencia nuclear del delito de tráfico de influencias, y formular iniciativas o planteamientos jurídico-doctrinarios que contribuyan a las iniciativas de revisión y modificación de la configuración típica de los delitos de tráfico de influencias. Con la finalidad de corregir ciertas incongruencias legislativas existentes con relación a ciertos aspectos o elementos del delito, como: La defectuosa configuración de los tipos penales, la impunidad del funcionario influido, la determinación de bienes jurídicos diversos en los delitos del Art. 428 y 429 del CP, la indeterminación del bien jurídico protegido en el del Art 430 del CP, las contradicciones doctrinarias en la determinación del sujeto pasivo, la atipicidad de los actos preparatorios y similares, el problema de la interpretación e inclusión de la resolución y el aspecto de la sanción penal. Por ello, este trabajo de investigación se ha estructurado de la siguiente manera: El trabajo consta de tres partes, cada uno de los cuales comprende dos capítulos. I.- La primera parte, titulado: "Aspectos preliminares al estudio del delito de tráfico de influencias", como indica su nombre, es un tema preliminar que se trata de forma ligera y superficial, simplemente por la relación intrínseca que mantiene con el tema central, a su vez comprende dos capítulos: El primero, con la rúbrica de: "Nociones conceptuales de función pública y funcionario público", en el que primeramente se dan los conceptos de función pública, el acceso a la función pública, principios rectores de la función pública, la actividad funcionarial y otros...
This work entitled "Studies on the doctrinal and legislative evolution of the offence of trading in influence", is the result of a hard work of scientific research, based on knowledge and information collected from the criminal doctrine, jurisprudence and comparative law, with the aim of deepening and consolidating a scientific study about the nuclear essence of the offence of trading in influence , and formulate juridico-doctrinarios approaches, or initiatives that contribute to the initiatives of review and modification of the typical configuration of the crimes of influence peddling. In order to correct certain existing legislative inconsistencies with respect to certain aspects or elements of the crime, such as: the defective configuration of criminal types, influenced official impunity, the existence of different legal goods, the indeterminacy or absence of legal protected in the case of the Art 430 of the COP, the doctrinal contradictions in the determination of the taxable the atipicidad of the preparatory and similar acts, the problem of interpretation and inclusion of resolution and the appearance of the criminal sanction. Therefore, this research work has been structured in the following way: The work consists of three parts, each of which comprises two chapters. I. the first part, entitled: "Preliminary aspects to the study of the offence of trading in influence", as its name suggests, is a preliminary issue that is light and superficial, form simply by the intrinsic relationship that keeps with the theme, in turn comprises two chapters: the first, with the heading: "Conceptual notions of public service and public servant" which first brings the concepts of public service, access to the civil service, guiding principles for public service, civil service activity and others...
Description
Tesis inédita de la Universidad Complutense de Madrid, Facultad de Derecho, Departamento de Derecho Penal, leída el 13-01-2016
Collections