Publication:
Nivel de desarrollo y composición del comercio : el contenido tecnológico de las exportaciones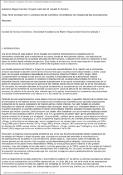 Files
Advisors (or tutors)
Editors
Publisher
Instituto de Análisis Industrial y Financiero, Universidad Complutense de Madrid
Abstract
Este trabajo plantea dos cuestiones: aportar evidencia empírica en la que se demuestra que, existe una estrecha asociación entre el nivel de desarrollo de un país y el protagonismo de las materias primas en sus exportaciones, y efectuar una evaluación del contenido tecnológico de las exportaciones de los países con objeto de evaluar la hipótesis de que cuando un país consigue mayores niveles de desarrollo los productos vendidos en los mercados extranjeros incorporan mayor intensidad innovadora.
This research is situated among the discusssions about the effects of trade composition on the growth of countries. It has two objectives. The former is to give empirical evidence to show the close association between the level of development and the rol of raw materials in the exports of a country, althouhg manufactures are getting more importance in the LDCs exports. The latter is to test the following hypothesis: higher levels of development are associated to higher technological contents of exports. A new simple methodology has been developed to evaluate the technological content of exports. The results support the hypothesis and, so, the relevance of the debate about the types of product exported by countries, even if LDCs, or at least some of them, are exporting manufactures.
Citation
Ardeni, P.G. y B. Wright (1992): "The Prebisch-Singer hypothesis: a reappraisal independent of stationary hypotheses", The Economic Journal, Vol. 102, julio. Banco Mundial (1995): Informe sobre el desarrollo mundial 1995, Washington, D.C. Cuddington, J.T. y C.M. Urzúa (1987): "Trends and cycles in the net barter terms of trade: a new approach", Economic Journal, Vol. 99. Grilli, E. y H. Yang (1988): "Primary commodity prices, manufactured goods prices, and the terms of trade of developing countries: What the long run shows", The World Bank Economic Review, Vol. 2. Grupp, H. (1995): "Science, high technology and the competitiveness of EU countries", Cambridge Journal of Economics, Vol, 19. Muñoz, C. y S. Sosvilla (1993): "La polémica sobre la evolución de la relación real de intercambio de los países desarrollados", Revista de Economía Aplicada, Vol. 1, núm. 1, primavera. Ocampo, J.A. (1991): "Los términos de intercambio y las relaciones centro-periferia" en O. Sunkel (comp.) El desarrollo desde dentro, Fondo de Cultura Económica, México. OCDE (1994): Politiques Industrielles dans les Pays de L'OCDE. Tour d'horizon annuel 1994. París. PNUD (1995): Informe sobre el desarrollo Humano 1995, Nueva York. Powell, A. (1991): "Commodity and developing country terms of trade: what does the long run show?", Economic Journal, Vol. 101. Prebisch, R. (1950): The economic development of Latin America and its principal problems, United Nations, Nueva York. Sarkar, P. y H.W. Singer (1991): "Manufactured exports of developing countries and their terms of trade since 1965", World Development, Vol. 19, núm. 4. Singer, H.W. (1950): "The distribution of gains between investing and borrowing countries", American Economic Review, Vol. 40. Singer, H.W. (1975): "The distribution of gains from trade and investment - revisited", Journal of Development Studies, Vol. 11, núm. 4, julio. Srinivasan, T. (1994): "Data base for development analysis: an overview", Journal of Development Economics, Núm. 44. Todaro, M.P. (1989): Economic development in the third world, cuarta edición, Longman, Nueva York. UNITED NATIONS (1993): International Trade Statistics Yearbook, Volumen I, Trade by Countries. Nueva York. UNCTAD (1994): Handbook of international trade and development statistics 1993, Naciones Unidas, Ginebra.