Publication:
Régimen jurídico de la restitución de bienes culturales de titularidad eclesiástica: la relación entre los ordenamientos nacional, confesional y europeo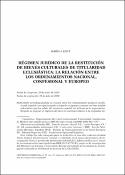 Authors
Advisors (or tutors)
Editors
Publisher
Universidad Pontificia Comillas
Abstract
El trabajo plantea la relación entre los ordenamientos jurídicos (confesional, español y europeo) cuando se trata de recuperar o restituir un bien mueble eclesiástico que ha salido del territorio español sin la licencia de exportación. Después de exponer el régimen del derecho canónico relativo a la propiedad dominical, se expone el modo de proceder para recuperar un bien que se encuentre en un Estado de la UE, aplicando la Ley 1/2017, de transposición de la directiva 2014/60/UE, así como la posibilidad de recuperarlo si se encentra en un Estado no europeo ni miembro de UNIDROIT (p. ej.: Estado Vaticano).
The papier sets out the relationship between the Canon, Spanish and European legal systems, when it comes to recovering or restoring an ecclesiastical cultural good that has left Spanish territory without an export license. After exposing the canon law regime related to property, the way to proceed to recover a good found in an EU State is exposed, applying 1/2017 act, transposing Directive 2014/60 / EU, as well as the possibility of recovering it if it is located in a non-European State or a member of UNIDROIT (eg: Vatican State).
Collections