Publication:
Planificación y optimización paralela de redes logísticas de transporte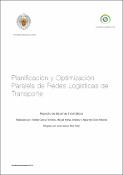 Advisors (or tutors)
Editors
Abstract
En este trabajo se detalla el proceso de desarrollo de una aplicación que permite realizar análisis de sensibilidad de una red logística de transporte de gas de forma paralela en varias máquinas y a través de la red. Esto incluye tanto la creación de una aplicación de escritorio que permita enviar los datos con los que se quiere realizar el análisis como un servicio web que ejecuta el resolutor IBM ILOG CPLEX y que realiza efectivamente el cálculo. En las siguientes secciones se procederá a explicar primero que es y como funciona y se modela una de estas redes de gas. Seguidamente pasaremos a comentar como usamos CPLEX y cual es el método para solucionar los modelos. A continuación se hará una breve introducción a ciertos conceptos que se necesitan conocer para poder comprender como funciona el paralelismo de la aplicación. Finalmente entraremos a fondo en la implementación de la aplicación para acabar con las conclusiones que hemos extraído, incluyendo posibles ampliaciones del proyecto. [ABSTRACT] In this work we detail the developing process of program which allows sensitivity analysis of a gas distribution network. These analysis are made in parallel on multiple computers and across thenet. This incudes the creation of a desktop application that can send the data you want to perform the analysys with and a web sevice that runs IBM ILOG CPLEX solver and that actually performs the calcullation. The following sections will explain what is and how one of this gas networks works and is modeled. After that, we will talk about how we use CPLEX and the algorith it uses to solve the models. Next, we will briefly introduce certain concepts needed to understand how the application exploits paralelism. Finnally we will enter fully in the implementation, ending with the conclusions we have obtained, including possible extensions of the project.
Description
Proyecto de Sistemas Informáticos (Facultad de Informática, Curso 2011-2012)
Collections