Publication:
Fármacos multidiana: aplicación en la terapia para la esquizofrenia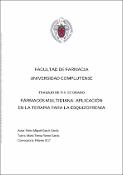 Authors
Advisors (or tutors)
Editors
Abstract
Los fármacos multidiana son compuestos capaces de actuar sobre múltiples objetivos. Desde su descubrimiento, el interés en ellos ha ido creciendo, ya que han supuesto un cambio en el paradigma "un fármaco-una diana". El desarrollo de un fármaco multidiana es un proceso complejo, desde la generación de cabezas de serie mediante los métodos de screening o combinación de estructuras, hasta la optimización de dicho cabeza de serie. Estos fármacos han supuesto un impacto en el tratamiento de múltiples enfermedades, bien sea porque han conseguido tratar una enfermedad que se creía intratable, porque han logrado superar resistencias al tratamiento, o porque han mejorado el tratamiento clásico. Es el caso del tratamiento de la esquizofrenia. Con la aparición de los fármacos neurolépticos atípicos con la clozapina, el tratamiento de la esquizofrenia ha cambiado radicalmente, se han formulado nuevas hipótesis acerca de la patogenia de la enfermedad, y ha supuesto una mejora importante en el estado de salud de los pacientes.
Multi-target drugs are compounds capable of acting over multiple targets. Since their discovery, the interest about them has been increasing, as they have changed the paradigm "one drug-one target". Development of a designed multi-ligand is a complex process, involving lead generation with screening or framework combination, and optimizing that lead.These drugs play an important role in the treatment of multiple diseases, be it because they can be used to treat previously "un-treatable" ones, or because they have overcome resistances, or because they have improved the previous treatment. The former one is the case of the schizophrenia. With the discovery of the atypical neuroleptics, first being clozapine, schizophrenia treatment has changed, new hypothesis regarding the causes of the disease have been formulated, and they've improved patient's health condition.