Publication:
Optimización en cadenas de desmontaje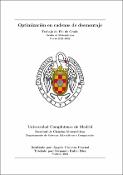 Authors
Advisors (or tutors)
Editors
Abstract
En la presente memoria se pretende estudiar el Problema de Equilibrado en Líneas de Desmontaje. Se presentará una explicación y el planteamiento de dicho problema junto con un estudio de su complejidad, resultando pertenecer a la clase NP-completo. Debido a esto último se determina que el problema ha de ser tratado mediante métodos metaheurísticos, se elegirá para ello los algoritmos genéticos. Estos algoritmos serán estudiados presentando distintos operadores de selección, cruce y mutación para diferentes codificaciones. Tras ello se realiza un estudio sobre distintos casos de prueba para determinar qué configuración es la más adecuada para la resolución del problema a estudiar.
This work aims to study the Disassembly Line Balancing Problem. An explanation and approach to this problem will be presented with the study of its complexity, resulting in belonging to the NP-complete class. Due to the latter, it is determined that the problem has to be treated by metaheuristic methods, for which genetic algorithms will be chosen. These algorithms will be studied by presenting different selection, cross and mutation operators for different encodings. Subsequently, a study of different test cases is done to determine which configuration is the most appropriate for solving the case study.