Publication:
Methodology for Forensics Data Reconstruction on Mobile Devices with Android Operating System Applying In-System Programming and Combination Firmware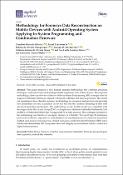 Authors
da Silveira, Claudinei Morin
Oliveira Albuquerque, Robson de
Oliveira Júnior, Gildásio Antonio de
Advisors (or tutors)
Editors
Abstract
This paper proposes a new forensic analysis methodology that combines processes, techniques, and tools for physical and logical data acquisition from mobile devices. The proposed methodology allows an overview of the use of the In-System Programming (ISP) technique with the usage of Combination Firmware, aligned with specific collection and analysis processes. The carried out experiments show that the proposed methodology is convenient and practical and provides new possibilities for data acquisition on devices that run the Android Operating System with advanced protection mechanisms. The methodology is also feasible in devices compatible with the usage of Joint Test Action Group (JTAG) techniques and which use Embedded Multimedia Card (eMMC) or Embedded Multi-Chip Package (eMCP) as main memory. The techniques included in the methodology are effective on encrypted devices, in which the JTAG and Chip-Off techniques prove to be ineffective, especially on those that have an unauthorized access protection mechanism enabled, such as lock screen password, blocked bootloader, and Factory Reset Protection (FRP) active. Studies also demonstrate that data preservation and integrity are maintained, which is critical to a digital forensic process.
Collections