Publication:
Inclusión sociolaboral de las personas con discapacidad. Mediación laboral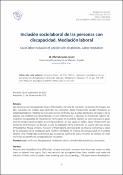 Authors
Advisors (or tutors)
Editors
Abstract
Las personas con discapacidad tienen dificultades a la hora de mantener un puesto de trabajo, por ello, necesitan de medios para defender sus derechos. Estos mecanismos pueden fortalecer su estabilidad laboral y facilitar la resolución de los conflictos que puedan plantearse sin llegar a la vía judicial. Las experiencias desarrolladas a nivel internacional y nacional en mediación laboral de- muestran la capacidad de implementar la inclusión en el ámbito laboral. La Comisión para la Igual- dad de Empleo Oportunidades en el Empleo (EEOC, en sus siglas en inglés, Equal Employment Op- portunity Commission), ha llevado a cabo la utilización de la mediación en cuatro oficinas locales (Philadelphia, Nueva Orleans, Houston y Washington), demostrando la eficacia económica y social de la utilización de la mediación para resolver conflictos en materia de discapacidad en el ámbito laboral. Una rentabilidad económica que alcanzó la cuantía de 109,2 millones de dólares en 2013 sin incluir los beneficios conseguidos por las partes.
Persons with disabilities face difficulties to keep their jobs, a reason why they need means to help them to defend their rights. Such mechanisms can strengthen their labor stability and make the solution of their conflicts easier, even avoiding judicial proceedings. The experiences developed in labor mediation in international and national levels prove the capacity of this mediation for improv- ing inclusion in the work sphere. The Equal Employment Opportunity Commission (EEOC) has used mediation at four local offices (in Philadelphia, New Orleans, Houston and Washington), showing the economic and social effectiveness of using mediation in order to resolve conflicts regarding disabilities in work sphere. This economic profitability reached 109,2 millions dollars, in 2013, with- out considering the benefits achieved by the parties involved.
Collections