Publication:
Reconstrucción pélvica tras exenteración con radioterapia intraoperatoria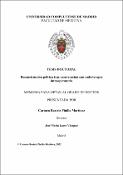 Files
Authors
Advisors (or tutors)
Editors
Publisher
Universidad Complutense de Madrid
Abstract
La dificultad de la cirugía de la pelvis viene dada por la complejidad de la región anatómica en la que nos encontramos. Se trata de una zona donde confluyen3 aparatos: digestivo, urinario y reproductor. Por lo tanto, las resecciones suelen causar un defecto de volumen muy complejo y amplio. La reconstrucción no sólo debe ser de estos 3 aparatos, si no también del propio defecto de volumen y partes blandas que se generan. Por ello, las complicaciones pueden ser derivadas de varios niveles y la coordinación entre los profesionales implicados es de vital importancia. La RIO es una estrategia terapéutica ideal para lograr el control local de tumores localmente invasivos y recurrentes, como son los tumores de la pelvis; pero también puede tener un impacto negativo en la recuperación de la intervención, aumentando las complicaciones o el tiempo de recuperación...
The difficulty of pelvis surgery is due to the complexity of the anatomical region in which it is located. It is an area where 3 systems converge: digestive, urinary and reproductive. Therefore, resections usually cause a very complex and extensive volume defect. The reconstruction must not only be of these 3 devices, but also of the volume defect itself and the soft areas that are formed. Therefore, complications can arise at several levels and coordination between the professionals involved is of vital importance. IORT is an excellent therapeutic strategy to achieve local control of locally invasive and recurrent tumours, such as pelvic tumours, but it can also have a negative impact on recovery from surgery, increasing complications or the recovery time...
Description
Tesis inédita de la Universidad Complutense de Madrid, Facultad de Medicina, leída el 14-07-2022
Collections