Publication:
Reconciling Bayesian and frequentist evidence in the point null testing problem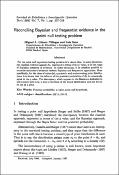 Authors
Advisors (or tutors)
Editors
Publisher
Sociedad Estadistica Investigacion Operativa
Abstract
For the point null hypothesis testing problem it is shown that, in some situations, the classical evidence againstH 0, expressed in terms of the p-value, is in the range of Bayesian measures of evidence. In these situations, it is therefore possible to reconcile measures of evidence between Bayesian and frequentist approaches. More specifically, for the class of unimodal, symmetric and nonincreasing prior distributions, it is shown that the infimum of the posterior probability ofH 0 is numerically equal to thep value. The discrepancy which appears in the literature dedicated to this subject until now, is due to the form of the mixed distribution and not due to its use as a prior.
Collections