Publication:
Identidad psicosocial y género: mujeres en la policía local de la Comunidad de Madrid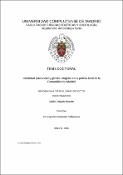 Files
Authors
Advisors (or tutors)
Editors
Publisher
Universidad Complutense de Madrid
Abstract
La génesis del presente trabajo se sitúa cronológicamente hace algo más de una década, donde una serie de pequeñas investigaciones exploratorias realizadas acerca de las mujeres policía de una pequeña localidad madrileña hizo despertar nuestra inquietud por el tema del acceso de las mujeres a los Cuerpos de Policía Local de la Comunidad de Madrid. Hemos intentado explicar el proceso de entrada e integración de ellas a la institución policial, puesto que como consideran algunos investigadores, la policía es representativa de la sociedad donde se inserta y para que esto se consiga tiene que ser, desde luego, integrando mujeres en sus plantillas. Para conseguirlo nos hemos servido del análisis del discurso de lo argumentado en los grupos de discusión y entrevistas individuales realizadas a mujeres policías veteranas y noveles de distintas localidades de la región madrileña, y dentro de la ciudad de Madrid, de distintos distritos de la ciudad. Poniendo en tela de juicio lo avanzado, el camino recorrido y sus apreciaciones en cuanto a si se ha progresado, o no, en lo que a su integración se refiere. De este modo, logramos poner en conversación a mujeres policía de distintas generaciones que nos han ilustrado con sus experiencias y vivencias, desgranándonos todo lo acontecido en relación a temas tan controvertidos como las labores que desempeñaban al entrar, la sobreprotección a la que se las sometía y la aceptación por parte de la ciudadanía, entre otros. Así pues, nos propusimos investigar sobre la identidad psicosocial y género de estas mujeres, en un campo tan masculinizado como es el de la policía local, desde una perspectiva cualitativa, sin que la teoría haya sido generada y luego verificada, sino que es generada de manera inductiva del estudio del fenómeno planteado, es decir, descubierta, desarrollada y provisionalmente examinada a través de una recolección de datos en forma sistemática, del análisis y la comparación de los diferentes discursos que se obtuvieron de las mujeres policía veteranas y noveles. También se analiza la complejidad de la relación con el ejercicio de la autoridad y del poder por parte de las mujeres policía y, posteriormente, se profundiza desde un enfoque goffmaniano en el "estigma" que ha supuesto a esta profesionales el portar el uniforme policial. Otra problemática abordada ha sido la diferencia existente en el modo de trabajar masculino y el femenino en lo que a la gestión policial se refiere y los retos y dificultades que encierra para la igualdad de género, para cerrar con el análisis de las barreras existentes para la promoción y ascenso de la mujer en la escala de mando.
The starting point of this project began more than a decade ago where a series of little exploratory researches about police women from a small village near Madrid made us focus our interest in how women enrolled Comunidad de Madrid Municipal Police Force. We have tried to explain the incorporation and integration process of these women into the police institution. Therefore, as some researchers consider, Police Force is very representative of the society where is inserted, and to get this real, it needs to be by recruiting women into the workforce. In order to achieve this objective, we have looked at the analysis of the discourse from what has been argued in the discussion groups and individual interviews made to veteran and novice police women from different villages and districts in Madrid. Calling into question what has been studied until now, and the evaluation of the women integration progress. As a result we get to have in conversation police women from several generations. These women have talked about their own experiences and life lessons, they relate everything that happened to them with some controversial issues, sucha as; the overprotection they were under, the work they used to do when they first came into the force, the approval of the community, among others. Having undertaken these interviews we decided to start investigating about the psychosocial and gender identity of these women in such a masculine field as police force is. We have studied from a qualitative perspective without building up and verifying a theory but by producing the theory from an inductive way of the study field, this is, found, developed and provisionally reviewed, collecting data in a systemic way of the analysis, comparing the different speeches from the veteran and new police women. It is also analyzed the complex relation of police women with authority and power. After this, w ego into detail in a goffmanian perspective about the "stigma" these women have been through wearing the police uniform. Another problematic aspect of study is the difference between men and women work in relation with the police management, the challenges and difficulties that we find to get gender equality, to finish with the analysis of the present barriers for the promotion of women to higher levels in the scale to power.
Description
Tesis inédita de la Universidad Complutense de Madrid, Facultad de Ciencias Políticas y Sociología, Departamento de Psicología Social, leída el 05-11-2015
Collections