Publication:
Implementación de políticas de superación de la pobreza en Chile 1990-2010. Caso Fosis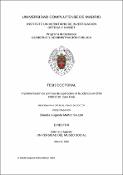 Files
Authors
Advisors (or tutors)
Editors
Publisher
Universidad Complutense de Madrid
Abstract
En 1990, Chile recuperó la democracia, tras 16 años de dictadura militar, la pobreza alcanzaba a más de un tercio de la población. Los nuevos gobiernos democráticos debieron diseñar políticas innovadoras para superar la pobreza, aumentando el gasto social, pero manteniendo los equilibrios macroeconómicos. Para fortalecer la política social se creó una nueva institucionalidad: el Fondo Solidario de Inversión Social (FOSIS), encargado del desarrollo e implementación de programas para superar la pobreza de quienes quedaban marginados de las políticas sectoriales tradicionales. Usando la técnica del estudio de caso, este estudio describe y analiza la implementación de los programas sociales de FOSIS entre 1990 y 2000. Se usan datos primarios y secundarios. Los datos primarios corresponden a entrevistas a informantes clave por los cargos que ocupaban durante el periodo de estudio. Los datos secundarios corresponden a información de los diferentes organismos nacionales e internacionales vinculados al análisis de la política social. En el marco de lo expuesto, el presente estudio se propone conocer la política social desarrollada en Chile por el FOSIS en el periodo 1990-2010. A fin de realizar este propósito el estudio se plantea los siguientes objetivos específicos: 1.- Identificar los ciclos que ha seguido la política social implementada para superar la pobreza en el periodo de análisis, caracterizando sus énfasis e ideologías orientadoras. 2.- Describir los programas a través de los cuales se ha ejecutado la política pública destinada a la superación de la pobreza, visualizando su pertinencia para que la población usuaria logre cumplir los objetivos planteados. 3.- Analizar la implementación de los programas diseñados para la superación de la pobreza, caracterizando el proceso y los controles establecidos para velar que se cumpla con lo diseñado...
In 1990, Chile recovered democracy after 16 years of military dictatorship, poverty amounted was more than a third of the population. The new democratic governments must design innovative policies to overcome poverty, increasing social spending, but maintaining macroeconomic balances. To strengthen social policy a new institution the Solidarity Social Investment Fund (FOSIS) was created, responsible for the development and implementation of programs to overcome poverty of those left outside traditional sectoral policies. In the context of the above, the present study aims to identify the social policy developed in Chile by FOSIS in the period 1990-2010. To accomplish this purpose, the study aims to achieve the following specific objectives: 1. Identify the cycles the social policy implemented to overcome poverty in the analysis period has followed, characterizing its emphasis and guiding ideologies. 2. Describe the programs through which public policy aimed at overcoming poverty was implemented; visualizing their relevance to the user population is to achieve the objectives. 3. To analyze the implementation of programs designed to overcome poverty, characterizing the process and controls placed to ensure that it complies with designed. Using the technique of case study, this study describes and analyzes the implementation of social programs of FOSIS between 1990 and 2000. Primary and secondary data are used. Primary data correspond to key informant interviews for positions they held during the study period. Secondary data correspond to scattered information from different national and international organizations related to the analysis of social policy...
Description
Tesis inédita de la Universidad Complutense de Madrid, Facultad de Ciencias Políticas y Sociología, leída el 13-01-2016
Collections