Publication:
Hematomas en el lago escleral: complicación tras esclerectomía profunda no perforante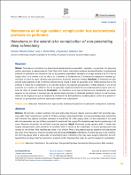 Advisors (or tutors)
Editors
Publisher
Sociedad Mexicana de Oftalmología
Abstract
Método: Presentamos 4 pacientes con glaucoma de ángulo abierto no controlado y cataratas, y un paciente con glaucoma uveítico secundario a heterocromía de Fuchs. Todos ellos fueron intervenidos mediante facoemulsificación y esclerectomía profunda no perforante con 5-fluoracilo. Dos de los pacientes presentaron hematoma en el lago escleral a las 24 h tras la cirugía, otros 2 a la semana y uno de ellos a las 2 semanas de la intervención. El hematoma se diagnosticó mediante gonioscopia en todos los casos. Además todos presentaron la presión intraocular elevada. Resultado: El hematoma del lago escleral suele aparecer en las 2 primeras semanas tras la cirugía. A todos los pacientes se les realizó goniopuntura en los primeros 5 meses de la complicación y uno de ellos requirió una segunda goniopuntura 3 meses después. A uno de los pacientes se le realizó una cistitomía. Tres de los pacientes requirieron tratamiento con betabloqueantes tópicos para controlar las cifras de presión intraocular. Conclusión: Los hematomas en el lago escleral son una complicación que puede aparecer en las primeras 2 semanas tras una esclerectomía profunda no perforante, pudiendo producir un mal funcionamiento de la cirugía por lo que es necesario la introducción de antihipertensivos oculares para el control de la presión intraocular. La goniopuntura podría ser usada para resolver esta complicación.
Methods: We describe 4 patients suffering from open-angle glaucoma and cataract, and one patient with secondary glaucoma after Fuchs' heterochromic uveitis. All of them underwent phacoemulsification and non-penetrating deep sclerectomy with 5-fluoracil. Two patients presented hematoma in scleral lake 24 h after surgery, other 2 of them presented it one week after the intervention, and one of them presented it 2 weeks after the surgery. The hematoma was found by gonioscopy in all cases. Moreover, all patients had elevated intraocular pressure. Result: Hematoma usually appears within 2 weeks after surgery. Goniopunctures were performed in 5 patients within 5 months of the complication. A second goniopuncture was needed for one of them. Bleb needling was made in one of them. Three of the patients required treatment with beta-blocker eye drops since intraocular pressure exceeded pre-set values. Conclusion: Hematomas in scleral lake are a rare complication that may appear within 2 weeks after non-penetrating deep sclerectomy. They may cause surgery malfunction and antihypertensive eye drops might be required for tensional control. Goniopuncture could be used for solving the complication.
Description
Versión española: fecha de recepción /01/01/2017); fecha de aceptación (12/04/2017); fecha de publicación online (01/05/2019). Versión inglesa: fecha de recepción (01/01/2017); fecha de aceptación (12/01/2017); fecha de publicación online (08/05/2019)
Collections