Publication:
Ser en las leyes, figurar en pintura: Política Indiana y la influencia de la jurisprudencia en la cultura visual novohispana del siglo XVII.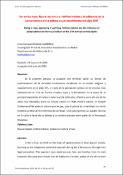 Advisors (or tutors)
Editors
Publisher
Biblioteca Histórica U.C.M.
Abstract
En el presente artículo, se propone una reflexión sobre las formas de representación de la sociedad novohispana, incidiendo en el mundo indígena y especialmente en el siglo XVII, a través de la percepción jurídica de los mismos. Esta aproximación se sirve de fuentes visuales, leyes y la tratadística, de la mano de su principal exponente, el jurista y oidor Juan de Solórzano y Pereira, autor de una de las obras más difundidas desde su primera edición en 1648: Política Indiana, un tratado fundamental del derecho indiano que recoge, bajo el prisma de la legalidad, una visión histórico-jurídica de los territorios de ultramar, cuyas percepciones se pueden rastrear en la cultura visual de su tiempo y su reciente pasado como parte de la Monarquía Hispánica.
In this article, we think on the ways of representation of New Spanish society, focusing on the indigenous world and especially during the 17th century, through their legal perception. This approach uses visual sources, laws and treatise, from its main exponent, the jurist and listener Juan de Solórzano y Pereira, author of one of the most widespread works on the subject since its first edition in 1648: Politica Indiana, a fundamental treaty of the Indian law that collects, under the prism of legality, a historical-legal vision of the overseas territories, whose perceptions can be traced in the visual culture of its time and its recent past as part of the Hispanic Monarchy.
Collections