Publication:
A mathematical model for planning transportation of multiple petroleum products in a multi-pipeline system.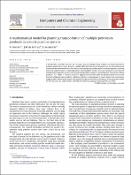 Advisors (or tutors)
Editors
Publisher
Pergamon-Elsevier Science LTD
Abstract
A multiproduct Pipeline provides an economic way to transport large Volumes of refined petroleum products over long distances. In such a pipeline, different products are pumped back-to-back without any separation device between them. Sometimes, multiproduct pipelines can be connected together, resulting in a more complex system commonly named multi-pipeline system. This paper proposes a new discrete mathematical approach to solve short-term operational planning Of multi-pipeline systems for refined products. This model is based on a discrete approach that divides both the planning horizon into time intervals of equal duration and the individual polyducts into packages of equal volume each containing a single product. Numerical examples are solved in order to show the performance of the proposed model. All the instances are implemented with the OPL modeling language running CPLEX as solver.
Description
© 2009 Elsevier Ltd. The authors would like to thank the Spanish Science and Technology Ministry for their support of project DPI2002-02924 and the Madrid
Citation
Cafaro, D. C., & Cerdá, J. (2004). Optimal scheduling of multiproduct pipeline systems using a nondiscrete MILP formulation. Computers and Chemical Engineering, 28, 2053–2068. Cafaro, D. C., & Cerdá, J. (2008). Dynamic scheduling of multiproduct pipelines with multiple delivery due dates. Computers and Chemical Engineering, 32, 728–753. Cruz, J. M., Andrés, B., Herrán, A., Besada, E., & Fernández, P. (2003). Multiobjective optimization of the transport in oil pipelines networks. In Proceedings of the 9th IEEE International Conference on Emerging Technologies and Factory Automation, vol. 1 (pp. 566–573). Cruz, J. M., Herrán, A., Risco, J. L., & Andrés, B. (2005). Hybrid heuristic and mathematical programming in oil pipelines networks: Use of immigrants. Journal of Zhejiang University Science, 6A(1), 9–19. ILOG Inc. (2006). ILOG OPL Studio 4.2 users manual. 1080 Linda Vista Ave., Mountain View, CA 94043. http://www.ilog.com. Mirhassani, S. A., & Ghorbanalizadeh, M. (2008). The multiproduct pipeline scheduling system. Computers and Mathematics with Applications, 56(4), 891–897. Rejowski, R., Jr., & Pinto, J. M. (2003). Scheduling of a multiproduct pipeline system. Computers and Chemical Engineering, 27, 1229–1246. Rejowski, R., Jr., & Pinto, J. M. (2004). Efficient MILP formulations and valid cuts for multiproduct pipeline scheduling. Computers and Chemical Engineering, 28, 1511–1528. Rejowski, R., Jr., & Pinto, J. M. (2008). A novel continuous time representation for the scheduling of pipeline systems with pumping yield rate constraints. Computers and Chemical Engineering, 32, 1042–1066. Sasikumar, M., Prakash, P. R., Patil, S. M., & Ramani, S. (1997). PIPES: A heuristic search model for pipeline schedule generation. Knowledge-Based Systems, 10, 169–175. Techo, R., & Holbrook, D. L. (1974). Computer scheduling the worlds biggest product pipeline. Pipeline and Gas Journal, 4, 27.
Collections