Publication:
Técnicas de Machine Learning e interpretabilidad aplicadas al mercado inmobiliario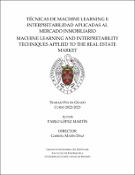 Authors
Advisors (or tutors)
Editors
Abstract
El mercado inmobiliario en España tiene una gran relevancia en la población. Los hogares españoles tienen depositados gran de parte de sus ahorros en activos inmobiliarios, siendo bastante relevante el porcentaje de estos dentro del patrimonio total de las familias. Este trabajo es un acercamiento al mercado inmobiliario desde el punto de vista de la inteligencia artificial y el Machine Learning. El objetivo de este trabajo fue entender la evolución de los precios de la vivienda respecto a factores externos como pueden ser las variables demográficas y de esta manera, poder predecirlos. Inicialmente se planteó obtener la información mediante web scraping de los de diversos portales inmobiliarios líderes en España, pero debido a las posibles implicaciones legales del uso de esta técnica, finalmente se optó por la información disponible en la web del Instituto Nacional de Estadística. Tras la aplicación de modelos de Machine Learning a los datos disponibles, se consiguió demostrar que, con una elección de variables relevantes, es factible predecir la evolución de los precios de la vivienda en el tiempo en una comunidad autónoma.
The real estate market in Spain has a great relevance in the population. Spanish households have deposited a large part of their savings in real estate assets, the percentage of these within the total wealth of families is quite significant. This work is an approach to the real estate market from the point of view of artificial intelligence and Machine Learning. The objective was to understand the evolution of housing prices with respect to external factors such as demographic variables and in this way, to be able to predict them. Initially, it was proposed to obtain the information through web scraping from various leading real estate portals in Spain, but due to the possible legal implications of using this technique, the information available on the website of the National Institute of Statistics was finally chosen. After applying Machine Learning models to the available data, it was possible to demonstrate that, with a choice of relevant variables, it is feasible to predict the evolution of housing prices over time in an autonomous community.
Description
Trabajo de Fin de Grado, Facultad de Informática UCM, Departamento de Sistemas Informáticos y Computación, Curso 2022/2023.