Publication:
Blink! Cultura y Diseño (La cultura como estrategia para el desarrollo sostenible)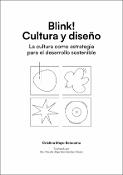 Authors
Advisors (or tutors)
Editors
Abstract
Blink! es un proyecto piloto, social y multiplataforma que busca diversificar y dinamizar los hábitos culturales en España. Se trabaja desde la interacción entre distintas generaciones, con el fin de revalorizar la cultura como estrategia para la transformación social. El diseño es una actividad creativa que consiste en investigar, idear y proyectar posibles soluciones a los problemas complejos y dinámicos de hoy en día. Este proyecto de fin de grado muestra el proceso de diseño desde la inevstigación del sector cultural, hasta el prototipado de Blink!, pasando por la búsqueda de problemas y oportunidades dentro del espacio de trabajo definido. Blink! se enmarca dentro del ecosistema cultural español. Por ello, se sirve de la popularidad y las ventajas de los festivales de música en directo, usando estos espacios como trampolín hacia otro tipo de expresiones culturales como el arte, la literatura, el cine o el teatro. El público objetivo o target está formado por un abanico de usuarios muy amplio de entre 18 y 50 años con un cierto interés por la cultura y que busquen compartir y descubrir experiencias y actividades culturales vividas.
Description
Blink! is a pilot, social and multiplatform project that seeks to diversify cultural habits in Spain. Work is done from the interaction between different generations, in order to revalue culture as a strategy for social transformation. Design is a creative activity that consists of researching, devising and projecting possible solutions for today's complex and dynamic problems. This final degree project shows the design process from the exploration of the cultural sector, to the prototype of Blink!, going through the search for problems and opportunities within the defined workspace. Blink! is framed within Spanish cultural ecosystem. For this reason, it makes use of the popularity and advantages of live music festivals, using these spaces as a springboard towards other types of cultural expressions such as art, literature, cinema or theatre. The target audience is made up of a very wide range of users between the ages of 18 and 50 with a certain interest in culture and who are seeking to share and discover cultural experiences and activities.