Publication:
Ultrasonido focal de alta intensidad para el tratamiento de temblor esencial y enfermedad de Parkinson: satisfacción e impacto en la calidad de vida de los pacientes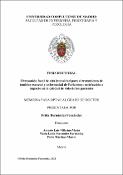 Files
Authors
Advisors (or tutors)
Editors
Publisher
Universidad Complutense de Madrid
Abstract
El tratamiento con Ultrasonido Focal de Alta Intensidad es un procedimiento novedoso que une dos conceptos clásicos: realización de termolesión en estructuras profundas del cerebro y neurocirugía funcional. La metodología clásica ha demostrado su beneficio sobre temblor refractario en pacientes con temblor esencial (TE) y sobre signos cardinales en enfermedad de Parkinson (EP). La técnica con HIFU permite realizar tratamiento ablativo focal, sin necesidad de craneotomía, con resultado positivo sobre el temblor y signos cardinales de la EP. Objetivos: probar el impacto del HIFU sobre la clínica y calidad de vida relacionada con la salud (CVRS) de pacientes con TE y EP y analizar aceptabilidad, fiabilidad, consistencia y validez de una escala de satisfacción con la vida y el tratamiento (ESVT-8)...
High Intensity Focused Ultrasound (HIFU) treatment is a novel procedure that unites two classical concepts: performing thermolesion on deep brain structures and functional neurosurgery. The classic methodology has demonstrated its benefit on refractory tremor in patients with essential tremor (ET) and on motor features in Parkinson's disease (PD). The HIFU technique allows focal ablative treatment, without the need for craniotomy, with positive results on tremor and motor features of PD. Main objectives: to test the impact of HIFU on the clinical and health-related quality of life (HRQoL) of patients with ET and PD and to analyze the acceptability, reliability, consistency and validity of a life and treatment satisfaction scale (ESVT-8)...
Description
Tesis inédita de la Universidad Complutense de Madrid, Facultad de Enfermería, Fisioterapia y Podología, leída el 07-09-2021
Collections