Publication:
Evaluación de un nuevo protocolo de diagnóstico genético en la atención prenatal de las gestantes en riesgo de cromosomopatías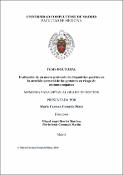 Files
Authors
Advisors (or tutors)
Editors
Publisher
Universidad Complutense de Madrid
Abstract
El diagnóstico prenatal es una actividad interdisciplinar encaminada a la detección de los defectos congénitos fetales, en muchas ocasiones de origen genético, donde la actividad coordinada de los diferentes especialistas y la información proporcionada a las gestantes les permiten optar por diferentes alternativas. El asesoramiento genético prenatal durante todo el proceso permite tanto la valoración individual en cada caso, como el establecimiento de los riesgos de recurrencia y opciones reproductivas para futuras gestaciones. Existen distintos cribados, tanto de primer como de segundo trimestre, para detectar gestantes en riesgo a las que se les ofertará la realización de una prueba invasiva. En los últimos años, la incorporación del cribado de las aneuploidías fetales en el ADN libre circulante en sangre materna ha exigido una nueva revisión de estos protocolos en la atención a las gestantes. Este nuevo cribado, por su elevada sensibilidad y su baja tasa de falsospositivos, permite la detección de las aneuploidías más frecuentes evitando las pruebas invasivas en las gestantes de riesgo, y por tanto, evitando las pérdidas fetales. Su coste no permite introducirlo en toda la población obstétrica y ha dado lugar al desarrollo de diferentes modelos contingentes en las gestaciones de riesgo en función de los sistemas de salud...
Prenatal diagnosis is an interdisciplinary activity designed to detect congenital defects in the foetus. Often these defects are genetic and the coordinated actions of different specialists and the information given to pregnant women will help decide among different options. During the whole testing process, prenatal genetic counselling will allow for both individual assessment and determining the risk of recurrence and reproductive options for future pregnancies.To detect patients at risk, different non-invasive screening procedures exist for both the first and second trimester of pregnancy. Women testing positive in a prenatal screen will be offered an invasive test for a definitive diagnosis of a chromosome abnormality in the foetus. The recent incorporation of screening tools able to detect aneuploidies in foetal cell-free DNA in the maternal circulation (cfDNA) has prompted a need to revise prenatal care protocols. Because of its high sensitivity and low rate of false positives, this new non-invasive approach enables the detection of the more common aneuploidies (mainly trisomy 21 (T21), trisomy 13 (T13), trisomy 18 (T18)) and often avoids the need for invasive tests associated with a risk of procedure-related miscarriage in high risk pregnancies. Owing to the costs of this screening test, it cannot be offered to the whole obstetrics population and this has given rise to different contingency models for high-risk pregnancies implemented by the different health systems...
Description
Tesis inédita de la Universidad Complutense de Madrid, Facultad de Medicina, leída el 12-11-2019
Collections