Publication:
El tabaco, factor prioritario de riesgo cardiovascular, síndrome metabólico y diabetes mellitus tipo 2. La "edad del corazón" como herramienta preventiva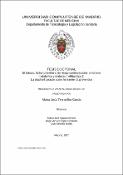 Files
Authors
Advisors (or tutors)
López González, Ángel Arturo
Editors
Publisher
Universidad Complutense de Madrid
Abstract
Las enfermedades cardiovasculares (ECV) constituyen la primera causa de muerte en el mundo, habiendo supuesto en el año 2012, según datos de la OMS, 17,5 millones de fallecimientos en el mundo. En España, en el año 2013 fueron la causa de 117.484 muertes, aunque se aprecia una tendencia decreciente de la mortalidad causada por tales patologías. El riesgo cardiovascular (RCV) se define como la probabilidad de desarrollar una enfermedad cardiovascular en un periodo de tiempo definido, generalmente diez años. El factor de riesgo cardiovascular se puede definir como una característica biológica, un hábito, una patología o un estilo de vida que aumenta, en aquellos individuos que lo presentan, la probabilidad de sufrir una enfermedad cardiovascular. En la patogénesis de las enfermedades cardiovasculares intervienen múltiples factores de riesgo, como el consumo de tabaco, la alimentación no saludable, la obesidad, la inactividad física, la hipertensión arterial, la diabetes o el aumento del nivel de los lípidos sanguíneos, de ahí que la aparición de enfermedades cardiovasculares pueda prevenirse actuando sobre dichos factores. Con la valoración de los factores de riesgo se pretende clasificar a los individuos en grupos de riesgo cardiovascular bajo, moderado, alto y muy alto (dependiendo del método utilizado serán éstos u otros grupos) y, además, se puede decidir la intervención a realizar sobre los factores de riesgo cardiovascular...
Cardiovascular diseases (CVD) are the leading cause of death in the world, having caused in the year 2012, according to World Health Organization (WHO) data, 17.5 million deaths in the world. In Spain, in the year 2013, CVD accounted for 117.484 deaths, although there is a decreasing trend from mortality caused by such diseases. Cardiovascular risk (CVR) is defined as the probability of developing a cardiovascular disease in a defined period of time, usually 10 years. The cardiovascular risk factor can be defined as a biological characteristic, a habit, a pathology or a lifestyle that increases the likelihood of cardiovascular disease in those persons who present it. The pathogenesis of cardiovascular diseases involves multiple risk factors, such as the consumption of tobacco, unhealthy eating, obesity, physical inactivity, high blood pressure, diabetes or increasing level of blood lipids, hence the emergence of cardiovascular disease can be prevented acting on these factors. Assessment of risk factors is intended to classify individuals into groups of cardiovascular risk, low, moderate, high and very high (depending on the method used will be these or other groups) and, in addition, an intervention on cardiovascular risk factors can be decided...
Description
Tesis inédita de la Universidad Complutense de Madrid, Facultad de Medicina, Departamento de Toxicología y Legislación Sanitaria, leída el 12-01-2016
Collections