Publication:
Reconstrucción artística del esqueleto del cérvido del Mioceno medio Heteroprox moralesi Azanza, 1989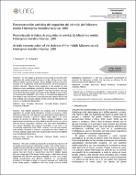 Advisors (or tutors)
Editors
Publisher
Instituto Geológico e Mineiro (Lisboa)
Abstract
En este trabajo se presenta una propuesta de reconstrucción esquelética del cérvido basal Heteroprox moralesi (Aragoniense medio, Mioceno medio) que sirva de base a futuros trabajos de la reconstrucción muscular y de la apariencia externa de esta especie y de otras especies de cérvidos miocenos. Algunos restos asignados a esta especie han sido hallados en varios yacimientos madrileños, si bien gran parte de los fósiles conocidos asignados a este taxón aparecen muy fragmentados y con muy pocos elementos postcraneales publicados, lo que dificulta en gran medida su reconstrucción esquelética. Por lo tanto, la reconstrucción propuesta en este trabajo se basa en anatomía comparada con otras especies de cérvidos tanto extintas como actuales, además de las evidencias más recientes en cuanto a su clasificación filogenética.
Este trabalho apresenta uma proposta para a reconstrução esquelética do cérvido basal Heteroprox moralesi (Aragoniano médio, Miocénico médio) que será utilizada como base para futuros trabalhos de reconstrução muscular e aparência externa desta espécie e de outras espécies de cérvidos do Miocénico. Alguns vestígios atribuídos a esta espécie foram encontrados em vários sítios de Madrid, embora uma grande parte dos fósseis conhecidos e referidos a este táxon sejam incompletos e com poucos elementos pós-cranianos publicados, o que torna a sua reconstrução esquelética muito difícil. Portanto, a reconstrução proposta neste trabalho é baseada na anatomia comparada com outras espécies de cérvidos, extintas e atuais, bem como nas propostas mais recentes relativas à sua classificação filogenética.
This work presents a proposal for a skeletal reconstruction of the basally branching cervid Heteroprox moralesi of the middle Aragonian (middle Miocene) that will serve as the basis for future works about muscle reconstruction and external appearance. Some remains assigned to this species have been found at several fossil sites from Madrid (Spain), although a large part of the known fossils assigned to this taxon are very fragmented and with few published postcranial elements, which makes skeletal reconstruction very difficult. Therefore, the reconstruction presented in this paper is based on compared anatomy with extinct and extant cervid species, in addition to the most recent evidence of their phylogenetic classification. In this way, a speculative reconstruction is proposed for Heteroprox moralesi that can serve as reference for the reconstruction of other Miocene cervids.
Collections