Publication:
Quantitative proteomics and immunoproteomics to explore bost and Candida albicans complex interplay: focus on macrophage and antibody responses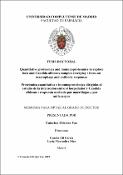 Files
Authors
Advisors (or tutors)
Editors
Publisher
Universidad Complutense de Madrid
Abstract
Candida albicans forma parte de la microbiota de individuos sanos. Sin embargo, ante un desequilibrio de la microbiota o inmunosupresión, se puede desarrollar una infección, siendo la candidiasis invasora (IC) un problema clínico relevante. Por esto, el estudio de la interacción hospedador-patógeno es crucial para conocer cómo el sistema inmunitario responde a Candida.Los macrófagos son células inmunes implicadas en el reconocimiento, fagocitosis y destrucción del hongo. Además, se ha descrito la producción de anticuerpos frente a proteínas de C. albicans durante estas infecciones. La proteómica proporciona información de la abundancia de proteínas y de las modificaciones postraduccionales durante la interacción patógeno-hospedador. Así mismo, el análisis de las proteínas secretadas por C. albicans también es importante debido al papel que tienen éstas en la interacción con el hospedador. El estudio de estas proteínas mediante inmunoproteómica resulta útil para el descubrimiento de biomarcadores para el diagnóstico de las IC.
Candida albicans can be part of the microbiota of healthy individuals. However, if the balance of the normal microbiota is disrupted or the immune defences are compromised a scenario of infection can arise. Invasive candidiasis (IC) is an important health-care associated fungal infection. Therefore, the study of host –pathogen complex interplay is needed to improve the knowledge on how the immune system responds to Candida.Macrophages are key immune cells involved in recognition, phagocytosis and killing of the fungus. The production of antibodies against several C. albicans proteins has also been described during these infections.Proteomics can be used to understand host-pathogen interactions and give information on the protein abundance and on their post translational modifications. Moreover, C. albicans secreted proteins analysis is crucial due to the role of these proteins in interaction with the host and their study using immunoproteomics is useful for the discovery of biomarkers for the diagnosis of IC...
Description
Tesis inédita de la Universidad Complutense de Madrid, Facultad de Farmacia, Departamento de Microbiología y Parasitología, leída el 05-11-2019
Collections