Publication:
La cooperación sur-sur: entre la promoción del desarrollo y la funcionalidad política: los casos de Chile, Venezuela y Brasil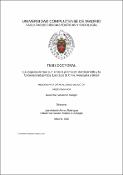 Files
Authors
Editors
Publisher
Universidad Complutense de Madrid
Abstract
Las políticas de cooperación resultan fundamentales para tratar de mejorar las condiciones de vida y las oportunidades de progreso de los países en desarrollo y, a la vez, en un mundo crecientemente interdependiente y globalizado, también son cada vez más cruciales para conformar un mundo más justo, estable y seguro. En este sentido, es relevante someter a estudio las transformaciones que se están produciendo en el sistema internacional de cooperación para el desarrollo, siendo una de las más importantes la emergencia y elevada proliferación mostrada en los últimos años por la denominada cooperación Sur‐Sur, a través de la que dos países tradicionalmente considerados en desarrollo comparten entre sí sus recursos, capacidades y experiencias. Un fenómeno que, lejos de responder a una dinámica puntual y pasajera, parece estar en clara conexión con las transformaciones más profundas que está experimentando el sistema internacional y con los cambios que se están produciendo en la naturaleza y distribución del poder en este escenario. Al mismo tiempo, dentro de este marco general, la región en la que la cooperación Sur‐Sur está teniendo una mayor presencia y repercusión hasta la fecha es América Latina, lo que se relaciona con el hecho de que los países que componen esta región son en su práctica totalidad de ingreso medio, a diferencia de regiones como África Subsahariana o Asia meridional, cuyos países suelen presentar menores niveles de desarrollo. Esto permite a muchos países latinoamericanos jugar cada vez en mayor medida un rol dual en el que, a pesar de seguir demandando cooperación internacional en ámbitos específicos para poder continuar su propia senda de desarrollo, se encuentran en disposición de aportar a otros países sus propios recursos, conocimientos y capacidades en una serie de ámbitos donde han logrado registrar experiencias exitosas y superar importantes problemáticas...
Cooperation policies are fundamental to improve living conditions and opportunities for progress of developing countries and, at the same time, in an increasingly interdependent and globalized world, they are also crucial for shaping a fairer, stable and safer world. In this regard, it is important to analyze the changes that are occurring in the international system for development cooperation. One of the most important is the emergence and high proliferation shown in recent years by the South‐South cooperation, through two developing countries share with each other their resources, skills and experience. A phenomenon which, far from responding to a temporal dynamics, appears to be clearly linked to the most profound transformations that are taking place in the international system and to the changes that are occurring in the nature and distribution of power in this scenario. At the same time, within this context, the region in which South‐South cooperation is having a greater and more dynamic presence and impact to date is Latin America, which is related to the fact that the almost all countries in this region are middleincome countries, unlike, for example, regions such as sub‐Saharan Africa or South Asia, where most countries have lower levels of development. This allows many Latin American countries playing a dual role in which they still demand international cooperation in specific areas for its own development path but, simultaneously, are willing to contribute to the development of other countries sharing their own resources, skills and accumulated knowledge in a number of areas where they have had successful experiences and overcome major problems...
Description
Tesis inédita de la Universidad Complutense de Madrid, Facultad de Ciencias Políticas y Sociología, leída el 14-01-2016
Collections