Publication:
Nanoparticles for the tratment of osteoporosis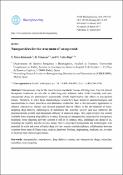 Advisors (or tutors)
Editors
Abstract
Osteoporosis is by far the most frequent metabolic disease affecting bone. Current clinical therapeutic treatments are not able to offer long-term solutions. Most of the clinically used antiosteoporotic drugs are administered systemically, which might lead to side effects in non-skeletal tissues. Therefore, to solve these disadvantages, researchers have turned to nanotechnologies and nanomaterials to create innovative and alternative treatments. One of the innovative approaches to enhance osteoporosis therapy and prevent potential adverse effects is the development of bonetargeting drug delivery technologies. It minimizes the systemic toxicity and also improves the pharmacokinetic profile and therapeutic efficacy of chemical drugs. This paper reviews the current available bone targeting drug delivery systems, focusing on nanoparticles, proposed for osteoporosis treatment. Bone targeting delivery systems is still in its infancy, thus, challenges are ahead of us, including the stability and the toxicity issues. Newly developed biomaterials and technologies with potential for safer and more effective drug delivery, require multidisciplinary collaboration between scientists from many different areas, such as chemistry, biology, engineering, medicine, etc, in order to facilitate their clinical applications.
Description
RESEARCHER ID K-3719-2014 (Miguel Manzano García) ORCID 0000-0001-6238-6111 (Miguel Manzano García) RESEARCHER ID M-3378-2014 (María Vallet Regí) ORCID 0000-0002-6104-4889 (María Vallet Regí)
Collections