Publication:
Planificación preoperatoria mediante estudios de mapeo vascular en microcirugía reconstructiva de cabeza y cuello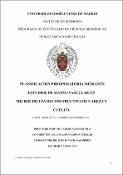 Advisors (or tutors)
Editors
Publisher
Universidad Complutense de Madrid
Abstract
La reconstrucción microquirúrgica se ha convertido en el patrón oro para la reparación funcional y estética de defectos complejos del territorio de cabeza y cuello. El principal factor de éxito en la reconstrucción mediante colgajos libres es la experiencia del equipo quirúrgico. La angiotomografía computerizada, la angiorresonancia magnética y la ecografía Doppler son pruebas de alta resolución vascular que pueden tener indicación como pruebas de mapeo en la planificación de procedimientos de reconstrucción microquirúrgica. Las nuevas técnicas de estudio preoperatorio de colgajos en cirugía reparadora pueden aportar información relevante para la planificación y la toma de decisiones y aumentar la fiabilidad y seguridad del proceso del tallado y transferencia de los colgajos. La adecuada selección del paciente y del tipo de colgajo a utilizar es fundamental para optimizar los resultados...
Microsurgical reconstruction has become the gold standard for functional and aesthetic repair of complex defects of the head and neck territory. The main success factor in free flap reconstruction is the experience of the surgical team. Computerized angiotomography, magnetic resonanceangiography, and Doppler ultrasonography are high-resolution vascular tests that may be indicated as mapping tests in the planning of microsurgical reconstruction procedures. The new techniques of preoperative flap repair restorative surgery can provide relevant information for planning and decision making and increase the reliability and safety of the flap cutting and transfer process. The proper selection of the patient and the type of flap to be used is fundamental to optimize the results...
Description
Tesis de la Universidad Complutense de Madrid, Facultad de Medicina, Departamento de Cirugía, leída el 20-06-2017
Collections