Publication:
La función de Inteligencia ante los retos de la Revolución Digital : la National Security Agency como instrumento de seguridad nacional de Estados Unidos en el ciberespacio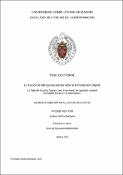 Authors
Advisors (or tutors)
Editors
Publisher
Universidad Complutense de Madrid
Abstract
La Inteligencia estadounidense como actividad de recolección y análisis de información de la realidad internacional, con la que poder obtener ventajas en la toma de decisión política, tuvo su origen en el marco de las confrontaciones bélicas del pasado siglo XX. No obstante, con la irrupción del mundo bipolar que marcaba el paso de la Guerra Fría y, (tras la caída del boque soviético), la inserción en la era digital con la llegada del siglo XXI, la Inteligencia se ha visto obligada a mutar y adaptarse a los nuevos cambios tratando de explotar la ventaja, sortear las vulnerabilidades y anticipar la amenazas. Sin embargo, las capacidades técnicas de este nuevo dominio digital que representa el ciberespacio confieren unas dificultades intrínsecas a la práctica de Inteligencia digital o electrónica, que dificultan el ejercicio de poder que persigue Estados Unidos en este nuevo entorno y que favorecen a aumentar de por sí, la falta de liderazgo en el mismo. Debido a la presencia de multiplicidad de actores estatales y no estatales confluyendo en este nuevo dominio digital, capaces de equilibrar la balanza de poder y erigirse en protagonistas de la amenaza, la National Security Agency (NSA) juega un rol esencial en el intento de liderazgo estadounidense en este escenario, fuente de oportunidades a la vez que de conflicto. La NSA fue una de las Agencias menos conocidas y menos anunciadas dentro del aparato de seguridad nacional hasta la década de los 70 del pasado siglo XX. Desde su conformación en 1952, sus conocedores se refirieron a veces a ella como "No Such Agency" negando absolutamente su existencia. Cuando las audiencias del Church Committee revelaron que el organismo era el principal recurso técnico del Gobierno para vigilar e interceptar las comunicaciones de los adversarios en el extranjero mediante el empleo de satélites, tomas de cable submarino o estaciones de escucha diseminadas por todo el mundo, la NSA se confirmó como el principal instrumento de poder en la vigilancia de las Administraciones estadounidenses, lo que le sirvió para adquirir ventaja y ubicarse a la vanguardia respecto a otras Agencias o Departamentos de cara al ejercicio del poder en el entorno digital posterior...
U.S. Intelligence as an activity of gathering and analyzing information on the international reality, with which to obtain advantages in political decision-making, had its origin in the framework of the military confrontations of the past 20th century. However, with the irruption of the bipolar world that marked the end of the Cold War and, (after the fall of the Soviet blockade), the insertion in the digital era with the arrival of the 21st century, Intelligence has been forced to mutate and adapt to the new changes trying to exploit the advantage, circumvent the vulnerabilities and anticipate the threats. However, the technical capabilities of this new digital domain represented by cyberspace confer some intrinsic difficulties to the practice of digital or electronic intelligence, which hinder the exercise of power pursued by the United States in this new environment and which favor to increase, in itself, the lack of leadership in it. Due to the presence of a multiplicity of state and non-state actors converging in this new digital domain, capable of balancing the balance of power and becoming protagonists of the threat, the National Security Agency (NSA) plays an essential role in the attempt of US leadership in this scenario, a source of opportunities as well as of conflict. The NSA was one of the least known and least publicized agencies within the national security apparatus until the 1970s. Since its formation in 1952, its insiders sometimes referred to it as the "No Such Agency," denying its existence altogether. When the Church Committee hearings revealed that the agency was the Government's main technical resource for monitoring and intercepting the communications of adversaries abroad through the use of satellites, submarine cable taps or listening stations scattered around the world, the NSA was confirmed as the main instrument of power in the surveillance of US Administrations, which served to give it an advantage and place it at the forefront over other Agencies or Departments in the exercise of power in the subsequent digital environment...
Description
Tesis inédita de la Universidad Complutense de Madrid, Facultad de Ciencias de la Información, leída el 04-05-2022
Collections