Publication:
Environmental assessment: a third division subject at the university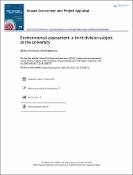 Authors
Advisors (or tutors)
Editors
Abstract
High-quality environmental assessments (EA) require expert practitioners. These need to be adequately educated, trained and have professional experience. The basic education place currently is the university. Several studies have focused on EA university programmes, but none of them has looked at the lecturers who teach this subject. We have analysed 200 EA lecturers from 104 courses in 46 universities in Spain, concluding that their specialization in EA is low, none has knowledge in more than two-thirds of EA-related topics and only 2.5% of them have published in 1 of the 3 main refereed EA journals in the last 10 years. We suggest that this is connected with the controversial selection criteria of lecturers, and to a fragmentation of EA teaching, divided among the most varied departments. EA must stop being a third division subject at the university and become an independent branch of knowledge, which will result in better education of students and an increase in specific scientific production.
Una evaluación ambiental (EA) de calidad requiere expertos adecuadamente formados y con experiencia profesional. El lugar básico de formación es la universidad; varios estudios han analizado los programas de EA, pero ninguno ha examinado a sus profesores. Hemos analizado las publicaciones de 200 profesores de EA de 104 cursos en 46 universidades de España, concluyendo que su especialización en esta materia es muy baja: más de dos tercios no ha publicado nada relacionado con EA y solo el 2,5 % ha publicado en alguna de las tres revistas especializadas existentes en los últimos 10 años. Esto parece deberse a unos controvertidos criterios de selección de profesores de EA y a una fragmentación de la enseñanza de esta materia, dividida entre departamentos variopintos. La EA debe dejar de ser una asignatura de tercera división en la universidad y convertirse en una rama independiente del conocimiento, lo que permitiría una mejor formación de los estudiantes y un aumento en la producción científica en este campo.
Collections