Publication:
Banco de tiempo con oferta y demanda de servicios en una red P2P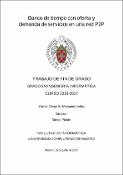 Authors
Advisors (or tutors)
Editors
Abstract
La tecnología P2P desde su inicio ha vivido etapas de proliferación y otras en las que su avance se ha visto frenado. Las primeras redes P2P surgieron a finales del siglo XX y principalmente tenían como propósito el intercambio de ficheros entre diferentes puntos de la red. Aprovechando esta facilidad en los intercambios, los usuarios de estas aplicaciones las usaban para compartir de manera gratuita contenido sujeto a copyright, por ejemplo ficheros mp3, por lo que las entidades encargadas de defender la propiedad intelectual siempre han luchado por el cierre de estas redes. Por este motivo siempre se ha relacionado el concepto de piratería con la tecnología P2P, lo que ha provocado que en los últimos años no se hayan conseguido grandes avances en este campo para poder sacar provecho de los beneficios que una solución descentralizada ofrece. Lo que el presente documento pretende es promover la investigación de soluciones descentralizadas para aplicaciones de utilidad social, no destinadas al intercambio de contenido, mediante el análisis, diseño e implementación prototípica de un banco de tiempo sobre una red P2P. Se quieren buscar alternativas viables para esta aplicación escogida que se puedan trasladar a otras aplicaciones de otros ámbitos pero también sobre tecnología P2P. El presente proyecto es una continuación de otro TFG [1], el cual consistió en la construcción de un banco de tiempo P2P pero dejó unas partes incompletas e incluso algo incoherentes, y otras partes completamente sin desarrollar. Las correcciones aquí realizadas han mejorado el análisis y diseño de la parte de las transacciones de la aplicación respecto al proyecto previo, y como continuación de su desarrollo se ha realizado el análisis, diseño y una primera implementación del subsistema de oferta y demanda de servicios del banco de tiempo, permitiendo a potenciales consumidores de un servicio encontrar a proveedores del mismo. Para esta nueva parte de la aplicación, la cual no estaba previamente definida, se ha realizado un estudio amplio en el que se ha visto la necesidad de emplear una ontología dinámica, algo que es novedoso, para la cual se ha realizado casi todo el análisis y diseño de su uso en el banco de tiempo.
Since its beginnings, P2P technology has lived through boom periods and periods in which progress has been slow. The first P2P networks arose at the end of the 20th century mainly for the purpose of file sharing between different peers. The users of these application took advantage of this ease of file sharing to share copyrighted content, in particular MP3 files, which is why the development and deployment of these networks have been vigorously opposed by companies and organizations trying to protect intellectual property. This fact has meant that, to the general public, P2P technology is practically synonymous with digital piracy and has lead to lack of progress in taking advantage of the benefits that these decentralized solutions can offer. The aim of this document is to promote the investigation of decentralized solutions in the creation of socially-useful applications, as opposed to simple file-sharing applications, via the analysis, design and prototype implementation of a time bank application built on top of a P2P network. In undertaking this development, we have sought to define concepts and develop artefacts that could be reused across a range of P2P applications. The present project is a continuation of a previous TFG, which consisted of the development of a P2P time bank but which left some parts of the application incomplete and even inconsistent, and others completely undefined. The corrections made here have improved the analysis and design of the transactions subsystem of the application, with respect to the previous project. Next, as a continuation of the development, the analysis, design and first implementation of the time bank application subsystem dealing with publication and search of services, enabling potential consumers of a service to find providers of that service, was carried out. For this new part of the application, completely undefined in the previous project, a wide study was undertaken from which the need to employ a dynamic ontology, a relatively novel concept, was observed. The analysis and design of the use of dynamic ontologies in the time bank application was a key part of the analysis and design of this latter subsystem.
Description
Trabajo de Fin de Grado en Ingeniería Informática (Universidad Complutense, Facultad de Informática, curso 2016/2017)