Publication:
Areas of Interest and Social Consideration of Antidepressants on English Tweets: A Natural Language Processing Classification Study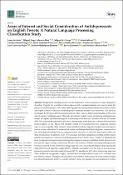 Advisors (or tutors)
Editors
Abstract
Background: Antidepressants are the foundation of the treatment of major depressive disorders. Despite the scientific evidence, there is still a sustained debate and concern about the efficacy of antidepressants, with widely differing opinions among the population about their positive and negative effects, which may condition people's attitudes towards such treatments. Our aim is to investigate Twitter posts about antidepressants in order to have a better understanding of the social consideration of antidepressants. Methods: We gathered public tweets mentioning antidepressants written in English, published throughout a 22-month period, between 1 January 2019 and 31 October 2020. We analysed the content of each tweet, determining in the first place whether they included medical aspects or not. Those with medical content were classified into four categories: general aspects, such as quality of life or mood, sleep-related conditions, appetite/weight issues and aspects around somatic alterations. In non-medical tweets, we distinguished three categories: commercial nature (including all economic activity, drug promotion, education or outreach), help request/offer, and drug trivialization. In addition, users were arranged into three categories according to their nature: patients and relatives, caregivers, and interactions between Twitter users. Finally, we identified the most mentioned antidepressants, including the number of retweets and likes, which allowed us to measure the impact among Twitter users. Results: The activity in Twitter concerning antidepressants is mainly focused on the effects these drugs may have on certain health-related areas, specifically sleep (20.87%) and appetite/weight (8.95%). Patients and relatives are the type of user that most frequently posts tweets with medical content (65.2%, specifically 80% when referencing sleep and 78.6% in the case of appetite/weight), whereas they are responsible for only 2.9% of tweets with non-medical content. Among tweets classified as non-medical in this study, the most common subject was drug trivialization (66.86%). Caregivers barely have any presence in conversations in Twitter about antidepressants (3.5%). However, their tweets rose more interest among other users, with a ratio 11.93 times higher than those posted by patients and their friends and family. Mirtazapine is the most mentioned antidepressant in Twitter (45.43%), with a significant difference with the rest, agomelatine (11.11%). Conclusions: This study shows that Twitter users that take antidepressants, or their friends and family, use social media to share medical information about antidepressants. However, other users that do not talk about antidepressants from a personal or close experience, frequently do so in a stigmatizing manner, by trivializing them. Our study also brings to light the scarce presence of caregivers in Twitter.
Collections