Publication:
Algo más que mercaderes. Economía, conflictos e identidad en los inicios de la colonización fenicia en la Península Ibérica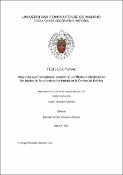 Files
Authors
Advisors (or tutors)
Editors
Publisher
Universidad Complutense de Madrid
Abstract
Esta tesis doctoral se marca como objetivo principal el estudio de los aspectos económicos del inicio de la colonización fenicia de la península Ibérica relacionados con las actividades primarias, como son la agricultura, la ganadería, la pesca y otras actividades de esta índole. A su vez, este primario propósito sirve para poder analizar la naturaleza de las relaciones entre los colonos llegados desde tierras orientales con las poblaciones autóctonas de lo que acabaría llamándose Tartessos. Para ello se ha procedido a hacer una revisión de las fuentes textuales antiguas que sobre esta temática existen, al tiempo que se analizaban los restos arqueológicos que sobre la presencia fenicia en la península Ibérica se han hallado de este período, así como en sus lugares de origen en el Levante mediterráneo. Inicialmente se ha tratado de hacer un análisis de la situación que acontecía en Oriente, el lugar de procedencia de los colonos fenicios, para ver cuál era la situación allí y los motivos que pudieron propiciar su marcha. Esto se realizó puesto que las condiciones en las que se genera un movimiento colonial son claves para poder conocer lo que tal proceso colonial buscaría en las nuevas tierras en las que se asientan los pueblos migrantes. Tras ver su situación de origen se procedió a realizar un estudio profundo sobre los principales factores que influyeron de condicionantes para el proceso de expansión, así como los mecanismos mediante los cuales esta colonización fue llevada a cabo en sus momentos primarios...
The main purpose of this dissertation is to describe the economic aspects at the beginning of the Phoenician colonization across the Iberian Peninsula. These mercantile characteristics are connected with the primary sector and include agriculture, cattle or fishing, among others. Equally, this starting point is useful to investigate the nature of the relationship between settlers and the indigenous communities in Southern Iberia, which would finally end up being called Tartessos. In order to fulfil the goal, I check the original ancient documents about this subject and, at the same time, I evaluate the archaeological remains that prove the Phoenician presence in the Iberian Peninsula, as well as the native lands in the eastern Mediterranean. First of all, we must attempt to investigate the situation that was taking place in the Phoenician's mother-cities. This should inform us about the daily circumstances in the metropolis, why Phoenician people decided to leave their homes and where they went. This is an important point because the original conditions that led to a colonial movement are crucial for understanding the subsequent practices in distant places. After studying the basic condition, I carry out a meaningful research about the core elements that have influenced the colonization process. In addition to this, we try to understand the mechanisms beneath those primary settlement patterns...
Description
Tesis inédita de la Universidad Complutense de Madrid, Facultad de Geografía e Historia, leída el 11-12-2015
Collections