Publication:
Las condiciones generales de la contratación en el tráfico entre profesionales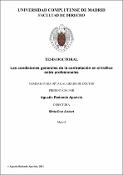 Files
Authors
Advisors (or tutors)
Editors
Publisher
Universidad Complutense de Madrid
Abstract
En esta tesis se aborda el fenómeno de las condiciones generales de la contratación ("CGC") específicamente en el ámbito de la contratación entre profesionales. La Ley 7/1998, de 13 de abril, sobre Condiciones Generales de la Contratación no prevé la aplicación de controles de contenido a las CGC suscritas entre profesionales, decisión criticada de manera generalizada por la doctrina española. En este trabajo abordamos esta decisión, y otros aspectos de la regulación de las CGC, sin partir de la necesidad de estos controles. Las bases de partida son tanto la experiencia real de las CGC entre profesionales, a través de estudios empíricos, como las distintas experiencias comparadas, atendiendo en particular a las críticas internas de los últimos años al sistema alemán, considerado como la regulación modelo. Tras esta revisión se consideran los argumentos a favor y en contra de la introducción de controles de contenido entre profesionales, y se revisa con detalle las importantes diferencias en la posición como adherentes de los consumidores y los profesionales. Se revisan las diferentes propuestas doctrinales y legislativas de los últimos años, que consideramos no plenamente satisfactorias. Se formula finalmente una propuesta de "lege ferenda" articulada en torno a una regulación de las cuestiones que afectan a las CGC entre profesionales en la legislación especial de cada tipo de contrato que se complementa con una cláusula de cierre para los supuestos no previstos. Esta cláusula de cierre permitiría un control de contenido de estas cláusulas en torno a la buena fe de ambas partes. Así para que haya un control de contenido se requeriría no solo un comportamiento del predisponente contrario a la buena fe sino que el adherente profesional se haya comportado de buena fe.
This work deals with the standard term clauses (STC) in the B2B context. Spanish Act 7/1998, on Standard Contract Clauses does not foresee any specific content controls in STC entered by businesspeople, a decision generally criticized by the Spanish scholars. This work approaches this decision and other aspects of the STC in the B2B context without assuming the need of these controls. The basis for the work is both the real experience of STC in the B2B context, through empirical studies, and the compared experiences, paying particular attention to the internal critics to the German system, traditionally considered the model regulation. After this review, we considered the reasons for and against the introduction of content controls and we review the important differences in the positions of the businessperson and consumer as signatories of STC. We also review the scholar and legislative proposals formulated in the last years in Spain which we do not find fully satisfactory. We introduce, as a conclusion to the work, a legislative proposal that is articulated around a regulation of the STC in each contract type, complemented by a closing provision for those matters not specifically regulated. This closing provision would allow the introduction of content control, requiring both parties to act in good faith. Therefore to apply content controls, the party that sets out the STC needs to have breached its obligation to act in good faith, but also provided that the other party has acted in good faith when accepting the STC.
Description
Tesis inédita de la Universidad Complutense de Madrid, Facultad de Derecho, leída el 15/01/2021
Collections