Publication:
Fisionomía y comunidad: las estructuras de lo antropológico en la filosofía de F.W.J. Schelling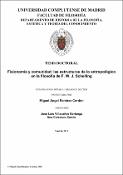 Files
Authors
Editors
Publisher
Universidad Complutense de Madrid
Abstract
La pregunta fundamental de la filosofía es cómo lo universal puede expresarse en lo particular, y cómo a su vez lo finito puede alcanzar su unión en lo infinito. En función a las distintas respuestas ofrecidas por los distintos sistemas de filosofía, el camino de inherencia puede darse en el primer sentido o bien en el segundo. La solución por la que se decanta la filosofía de Schelling es que el único paso viable es el que puede practicarse desde lo finito a lo infinito. El primado de esta estrategia, por tanto, aparece del lado de una filosofía práctica. El ente particular capacitado para hacer subsumir todo lo particular bajo lo universal es uno capaz de inteligir lo primero bajo las coordenadas del concepto; es decir, el hombre, única criatura que puede vincular lo real con lo ideal. Schelling reconoce en las Conferencias de Stuttgart que el hombre consta constitutivamente de estos dos elementos, el ideal y el real. Respecto de lo ideal supone ser una huella indeleble en su forma de conocer que Schelling explicará de un modo mitológico por medio de una Caída desde el reino de la identidad en el que era uno con Dios, con el principio. Producida la Caída el acceso prioritario que tiene el hombre es a un mundo entorno que debe englobar en las diferentes categorías. El hombre puede entender las cosas de aquí abajo por medio de las categorías pues el mundo entero se deja englobar conforme a este proceso medido de conocimiento. La explicación que permite entender lo particular como plegado a las categorías ideales del conocimiento queda recogida en la Potenzlehre schellinguiana que sigue el registro de los modos de la posibilidad, la existencia, la necesidad y la finalidad. Para hacer énfasis en que estas categorías dependen de un mismo principio Schelling simplificará estos modos, a partir de la Naturphilosophie, como A1, A2, A3 y A4. Si, por tanto, todo lo particular puede ser entendido conforme a estas cuatro categorías, ello no deberá ser distinto en el caso del ente llamado hombre...
The fundamental question of philosophy is how the universal can express itself in the particular, and how in turn the finite can reach its union in the infinite. Depending on the different answers offered by the different systems of philosophy, the path of inherence can occur in the first sense or in the second one. The solution for which Schelling's philosophy is based is that the only viable step is the one practiced from the finite to the infinite. The primacy of this strategy, therefore, appears on the side of a practical philosophy. The particular entity trained to make subsume all the particular under the universal is one capable of knowing the first under the coordinates of the concept; that is to say, man, the only creature that can link the real with the ideal. Schelling recognizes in the Conferences of Stuttgart that man consists constitutively of these two elements, the ideal and the real. Regarding the ideal, it is an indelible trace of knowing that Schelling will explain in a mythological way by means of a Fall from the realm of identity in which he was one with God, with the beginning. After the Fall, the priority access that man has is to a world that must encompass the different categories. Man can understand the things below by means of the categories, because the whole world allows itself to be encompassed according to this measured process of knowledge. The explanation that allows understanding the particular as folded to the ideal categories of knowledge is gathered in the Schelling's Potenzlehre that follows the register of the modes of possibility, existence, necessity and teleology. To emphasize that these categories depend on the same principle, Schelling will simplify these modes, from the very Naturphilosophie, as A1, A2, A3 and A4. If, therefore, everything particular can be understood according to these four categories, this should not be different in the case of the entity called man...
Description
Tesis de la Universidad Complutense de Madrid, Facultad de Filosofía, Departamento de Historia de la Filosofía, Estética y Teoría del Conocimiento, leída el 17/12/2018
Collections