Publication:
Agentes capaces de deducir de forma cooperativa relaciones causa efecto en un entorno estructurado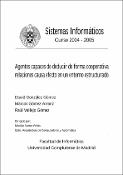 Advisors (or tutors)
Editors
Abstract
En este proyecto se ha desarrollado una arquitectura de sistema multi-agente capaz de tomar decisiones coordinadas en conjunto. A lo largo de esta memoria se explica cuales han sido las decisiones de diseño de los diversos puntos de los que consta la arquitectura. También y dado que la arquitectura no parte de cero, se comentan los diversos entornos de ejecución estudiados y por qué se ha escogido JADE como el entorno en el que van a correr los agentes. Por último se mostrará un ejemplo de esta arquitectura, en el que a través de una implementación específica se prueba un ejemplo de la ejecución en un entorno estructurado. [ABSTRACT] In this project, we have developed a multi-agent system architecture, which is able to take coordinated decisions by the whole group of agents. Throughout this text there are explanations about the design decisions made in the diferent points that the architecture is based on. Also, due to the architecture is built over an agent environment, there are discussions about several running environments and why JADE has been chosen. At last, an example of the architecture will be shown throught a specific implementation, and an example of the execution into a structured environment.
Description
Trabajo de clase de la asignatura Sistemas Informáticos (Facultad de Informática, Curso 2004-2005)
Collections