Publication:
El espacio de la ciudad en la novela negra: Juan Madrid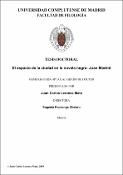 Files
Authors
Advisors (or tutors)
Editors
Publisher
Universidad Complutense de Madrid
Abstract
Esta tesis aborda de manera monográfica los relatos de género negro de Juan Madrid del ciclo de novelas protagonizado por Antonio Carpintero, alias Toni Romano. En ella nos planteamos descubrir qué función desempeña la ciudad dentro del relato. Para ello nos hemos provisto de instrumentos y procedimientos propios de análisis como: adaptar definiciones prácticas y por tanto sencillas de "novela o relato criminal", "novela o relato negro" y "novela o relato negro en España". Aportar conceptos como: cronotopo del crimen, o los de "aprósopos" y "apánthropos" para adaptar a nuestro método de análisis los conceptos de cronotopo de Bajtin y de no-lugar de Augé. La tesis se ha compuesto en dos partes en las que aborda sendas metáforas aplicadas a la ciudad: La ciudad como cuerpo y la ciudad hostil...
This thesis studies in a monographic way Juan Madrid's noir stories in the series of novels featuring Antonio Carpintero, alias Toni Romano. Its main purpose is to determine the role played by the city within the story. To that end, we have put into practice different instruments and procedures of analysis, such as adapting practical (and therefore, simple) definitions of "criminal novel/story", "noir novel/story" and "noir novel/story in Spain" and bringing concepts like "crime chronotope", "aprosopos" and "apanthropos" in order to adapt Bajtin's "chronotope" and Augé's "no-place" concepts into our method of analysis. This thesis has two main parts, each one dealing with a metaphore: the city as a body and the hostile city...
Description
Tesis inédita de la Universidad Complutense de Madrid, Facultad de Filología, Departamento de Filología Románica, Eslava y Lingüística General, leída el 06/11/2019
Collections