Publication:
La programación de Canal Plus España (1990-2005) : historia de la primera televisión de pago en España a través de sus contenidos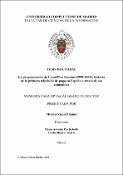 Files
Authors
Advisors (or tutors)
Editors
Publisher
Universidad Complutense de Madrid
Abstract
La televisión de pago es, en la actualidad, un servicio completamente integrado en la sociedad española. Miles de hogares cuentan con algún tipo de suscripción a este servicio en sus diversas modalidades, y son ampliamente conocidos los nombres de HBO, Netflix, Filmin o Amazon Prime Video. Partiendo de esta realidad, cabe preguntarse cómo se ha llegado a este punto, una cuestión amplia en la que esta tesis es un primer aporte. Para ello, esta investigación de corte histórico ha determinado como su objeto de estudio el que se considera como origen de la televisión de pago en España: Canal Plus España. En concreto, la atención se ha puesto en el periodo de 1990 a 2005, los años en los que la cadena emitió en analógico. Este periodo engloba los inicios del canal, su asentamiento dentro del mercado y sus actuaciones frente a la aparición de nueva competencia a finales de los 90.Se ha partido de la hipótesis de que este canal aportó mucho más que un nuevo modelo de negocio al mercado televisivo español y que, su éxito se debió, en gran medida, a su oferta de contenidos y a la estrategia programática que diseñó con ellos. Esta hipótesis se ha concretado en tres objetivos generales...
Pay television service has become fully integrated into Spanish society. Thousands of households have some kind of subscription service in its various forms, and the names HBO, Netflix, Filmin and Amazon Prime Video are widely known. One might ask: what is the background for this state of affairs? A broad question to which this thesis seeks to provide some initial answers.The object of this historical study was what is considered to be the origin of pay television in Spain: Canal Plus Spain. Specifically, it is focused on the period from 1990 to 2005, the years in which the channel broadcast in analogue. This period covers the broadcaster's beginnings, how it became established in the market, and the actions taken in the face of new competitors in the late 1990s.The initial hypothesis was that this broadcaster brought much more than a new business model to the Spanish television market, and to a large extent its success was due to both the content offered and the programming strategy designed for it. This hypothesis led to three general objectives.Firstly, to provide a comprehensive snapshot of all of the content broadcast by Canal Plus Spain during its 15 years of analogue operation. This made it possible to determine exactly what was broadcast, when, and how it was broadcast. That is to say, what the programming of Canal Plus Spain was, and how the broadcast schedule was arranged...
Description
Tesis inédita de la Universidad Complutense de Madrid, Facultad de Ciencias de la Información, leída el 13-05-2022
Collections