Publication:
Cañete y sus alrededores (provincia de Cuenca): un ejemplo de vínculo entre la historia geológica y la humana-cultural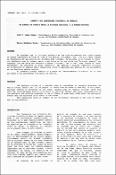 Advisors (or tutors)
Editors
Publisher
Servicio de Publicaciones de la Universidad de Alcalá
Abstract
Se considera que la historia geológica de una zona determinada esta condicionando de manera importante la forma de vida de sus gentes, costumbres, etc., por ello vemos también la importancia de que aquélla sea de algún modo conocida . Se presenta en el trabajo la historia geológica como la primera parte y más larga de lo que sería una "historia general" que terminar1a con una parte más reciente o humana - cultural, con la cual, pues, habría un "encadenamiento". Se considera el papel importante del geólogo y algunos organismos oficiales en la difusión de algunas ideas elementales sobre la geologla más próxima de los alrededores en los distintos medios rurales. El presente trabajo muestra un ejemplo de "encadenamiento histórico" en la zona de Canete y sus alrededores (provincia de Cuenca).
The geologic history of a specific area is considered to strongly determine the way of living, habits , etc. of i t s people . It should then be known in sorne way . In this paper , geologic history is presented as the first, longest part of "General History" which ends with the cultural-human history with which it would be linked. The great responsibility of the geologist and affected organisrns in the diffusion of sorne basic ideas about the geological events near the different rural areas is considered. This rnanuscript shows an example of the "historical linking" of the area of Cañete and its surroundings.
Collections