Publication:
Mediciones alternativas de la cooperación internacional para el desarrollo en el contexto de la agenda 2030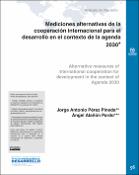 Advisors (or tutors)
Editors
Abstract
El fin de los Objetivos de Desarrollo del Milenio y su sustitución por los Objetivos de Desarrollo Sustentable (ODS) abren la puerta a debates en torno al desarrollo y a la eficacia de la cooperación internacional. Uno de ellos gira en torno a garantizar ayuda eficaz, mayor transparencia y gestión orientada a resultados. En el presente estudio se abordan algunas de las iniciativas más significativas para la generación de indicadores útiles para medir la eficiencia y transparencia de la cooperación internacional para el desarrollo. Para ello se contextualizan las alternativas de medición de la Cooperación Internacional para el Desarrollo (CID). Seguidamente, se intenta responder a preguntas como ¿con qué contamos?, ¿miden lo mismo?, ¿cuál es el mejor método?, y en tal sentido aclarar el panorama existente en torno a la medición de la CID en el contexto de la Agenda 2015-2030. Como resultado, se pone énfasis en una vertiente novedosa en torno al enfoque espacial como una medición alternativa poco considerada en los debates de la CID, que a pesar de ello es impulsada por organismos como el Banco Mundial, pero de la que se sabe poco sobre su potencial y utilidad. Por último, realizamos una serie de reflexiones en torno a lo expuesto.
The end of the Millennium Development Goals and its replacement by the Sustainable Development Goals (SDG), open the door to discussions on the development and the effectiveness of aid. One of the objectives talks about ensure effective aid, greater transparency and managing for results. Here we address some of the most significant initiatives and complementing the micro or macro traditional approach and that are associated with the major objectives of development, effectiveness principles , processes and results , local and regional efforts and particularities of the role of different actors , through indicators of south-south cooperation , to the use of space technologies that contribute to a better understanding of the effects that international assistance and cooperation on development.
Collections