Publication:
Revealing the most energetic light from pulsars and their nebulae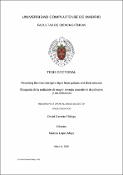 Files
Authors
Advisors (or tutors)
Editors
Publisher
Universidad Complutense de Madrid
Abstract
The observation of Very-High-Energy (vhe, >100 GeV) gamma rays is key in studying the non-thermal sources of radiation in our Universe. Pulsars and Pulsar Wind Nebulae (pwne) are two source classes that are known to emit vhe gamma rays. While pulsar wind nebulae are the dominant vhe gamma-ray source class in our galaxy, only two pulsars have been detected above 100 GeV so far. Most pulsar models explain gamma-ray emission via synchro-curvature radiation in the radiation-reaction limited regime, which leads to a sharp cut-off in the pulsar spectrum at energies of a few GeV. However, the detection of pulsed emission from the Crab pulsar up to hundreds of GeVby magic and veritas, suggests that classical pulsar models do not provide a full picture of the emission mechanisms at work. TeV pulsar wind nebulae, on the other hand, are observed via their inverse Compton radiation and are primarily found around young and energetic pulsars located towards the inner Milky Way. Detections of TeV pwne in the outer part of our galaxy are scarce, but could provide valuable input for the connection between the interstellar radiation field and the pwn luminosity...
La observación de rayos gamma de muy altas energías (vhe, >100 GeV) es clave para el estudio de las fuentes de radiación de origen no térmico de nuestro Universo. Los púlsares y sus nebulosas (pwn) son dos de los tipos de fuentes galácticas que pueden emitir rayos gamma de muy alta energía. Mientras que las nebulosas de los púlsares constituyen la mayor clase de fuentes galácticas descubiertas a estas energías, hasta la fechas ólo se han encontrado dos púlsares por encima de 100 GeV. La mayoría de los modelos teóricos consideran que la emisión de rayos gamma en púlsares es debida a radiación Syncrotrony de curvatura, lo que implica un corte espectral a unos pocos GeV por encima del cual la emisión desaparece rápidamente. Sin embargo, la detección de rayos gamma por encima de 100 GeV procedente del púlsar del Cangrejo por magic y veritas, sugiere que los modelos clásicos para púlsares no tienen en cuenta todos los procesos físicos involucrados en estas fuentes. Por su parte, la emisión gamma de muy alta energía procedente de las nebulosas de los púlsares es debida a la dispersión Compton inversa. La mayoría de las nebulosas detectadas a energías de TeV se encuentran en torno a púlsares jóvenes y energéticos en la parte interior de la Vía Láctea. El descubrimiento de nebulosas en las regiones exteriores de nuestra galaxia permitiría estudiar la conexión entre el fondo de radiación interestelar y la luminosidad de la nebulosa...
Description
Tesis de la Universidad Complutense de Madrid, Facultad de Ciencias Físicas, leída el 20/09/2018
Collections