Publication:
Developing secure business applications from secure BPMN models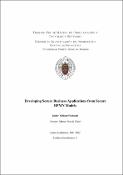 Authors
Advisors (or tutors)
Editors
Abstract
En este trabajo se propone una metodología para el desarrollo de aplicaciones seguras de procesos de negocios a partir de modelos BPMN Seguros. Es un proceso de tres pasos. En el primer paso, modelos de ActionGUI son automáticamente generados a partir de un modelo BPMN Seguro. Estos modelos de ActionGUI especifican tanto el comportamiento a alto nivel como la seguridad de la aplicación de negocios deseada. En el segundo paso, el modelador completará los modelos ActionGUI generados con la información relevante de la aplicación de negocios deseada que no puede ser expresada en el modelo BPMN dado. Finalmente, en el tercer paso, usando el generador de código disponible en ActionGUI, la aplicación de negocios deseada es generada automáticamente a partir de los modelos previamente completados. [ABSTRACT] In this work we propose a methodology for developing secure business applications from Secure BPMN models. In a nutshell, it is a three-step process. In the first step, ActionGUI models will be automatically generated from the given Secure BPMN model. These ActionGUI models specify the high-level behaviour, and the security of the desired business application. In the second step, the modeler will complete the generated ActionGUI models with all the relevant information about the desired business application that can not be expressed in the given BPMN model. Finally, in the third step, the desired business application will be automatically generated from the finalized models, using the available ActionGUI code generator.
Description
Máster en Investigación en Informática, Facultad de Informática, Departamento de Sistemas Informáticos y Computación, curso 2011-2012