Publication:
Medidas de transporte térmico de materiales termoeléctricos mediante la técnica fotoacústica: del material en volumen a la nanoescala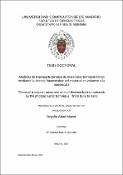 Authors
Advisors (or tutors)
Editors
Publisher
Universidad Complutense de Madrid
Abstract
El objetivo de este trabajo de doctorado consistió en la implementación de la técnica fotoacústica, una herramienta muy poderosa para determinar la difusividad térmica de los materiales. Esta tesis puede dividirse en dos secciones principales: i) el diseño del montaje, implementación y calibración, y ii) medidas de las propiedades térmicas de diferentes tipos de materiales con aplicaciones en la termoelectricidad. La mayor motivación para implementar esta técnica se basa en la importancia de las propiedades térmicas en una amplia variedad de aplicaciones desde gestión térmica en electrónica, industria espacial o medicina, hasta conversión de energía mediante el efecto termoeléctrico. La termoelectricidad consiste en la habilidad de los materiales de convertir diferencias de temperaturas en electricidad y viceversa, de modo que el calor residual podría ser recuperado y reutilizado. La eficiencia de estos materiales está directamente relacionada con la conductividad eléctrica y el coeficiente Seebeck, e inversamente relacionada con la conductividad térmica. La caracterización de la conductividad térmica es por tanto crítica para evaluar a un material como un candidato prometedor en la termoelectricidad. Además, ha sido comprobado cómo la eficiencia termoeléctrica mejora por la reducción de la conductividad térmica debida a la dispersión de fonones por el efecto del tamaño nanométrico. Por consiguiente, la determinación de las propiedades térmicas de estos materiales nanoestructurados es crucial. Para este propósito se han desarrollado métodos de calentamiento de no contacto, los cuales permiten evitar las resistencias térmicas de contacto, uno de los grandes inconvenientes de muchas de las técnicas de medida de propiedades térmicas. Las técnicas de calentamiento en modo no-contacto se basan normalmente en el fenómeno fototérmico, donde el calor es generado por una radiación incidente. En el caso de la técnica fotoacústica, una radiación incidente modulada incide en la muestra por lo que la superficie se calienta y enfría y por tanto, el aire en contacto se expande y contrae como consecuencia de este calentamiento periódico. Debido a este efecto, se crean ondas acústicas que son detectadas mediante un micrófono. La señal proveniente del micrófono se compara con la señal del láser incidente y a partir del desfase entre ambas se pueden obtener las propiedades térmicas del material mediante un modelo teórico apropiado...
The aim of this PhD work was the implementation of the photoacoustic technique, a powerful tool to determine the thermal diffusivity of materials. This thesis can be divided in two fundamental sections: i) the set-up design, implementation, and calibration; and ii) thermal property measurements of different material types with applications in thermoelectricity. The main motivation to implement this technique lays on the importance of the thermal properties in a wide variety of applications from thermal management in electronics, space industry, or medicine; to energy conversion by means of the thermoelectric effects. The thermoelectricity is the ability of the materials to convert temperature differences into electricity and vice versa, so that any waste heat could be recovered and utilized. The efficiency of these materials is directly related to the electrical conductivity and the Seebeck coefficient and inversely related to the thermal conductivity. The thermal conductivity characterization is then critical to evaluate a material as a promising thermoelectric candidate. Moreover, the thermoelectric efficiency has been proved to be enhanced by the reduction of thermal conductivity through the increasing of phonon scattering due to nanosize effects. Therefore, the determination of the thermal properties of these nanostructures materials becomes crucial. For that purpose, non-contact heating methods are being developed, which allows for the thermal contact resistances to be avoided, which is one of the main drawbacks of many thermal property measurement techniques. Non-contact heating techniques are usually based on photothermal phenomenon, where heating is generated by an incident radiation. In the case of the photoacoustic technique, an incident modulated radiation impinges on the sample so that its surface is heating and cooling and hence, the air in contact with it expands and contracts as a consequence of this periodically heating. From this effect, acoustic waves are created and detected by a microphone. The signal coming from the microphone is then compared with the laser incident signal and from the phase shift the thermal properties of the material can be extracted with a proper theoretical model...
Description
Tesis inédita de la Universidad Complutense de Madrid, Facultad de Ciencias Físicas, Departamento de Física de Materiales, leída el 19-02-2016
Collections