Publication:
Los mecanismos del honor y la nobleza en Castilla y Portugal, 1556-1621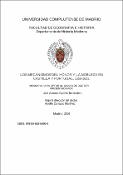 Files
Authors
Advisors (or tutors)
Editors
Publisher
Universidad Complutense de Madrid, Servicio de Publicaciones
Abstract
La tesis analiza desde la perspectiva de la nueva historia cultural y de la historia comparada la evolución de la idea de nobleza en los reinos de Castilla y Portugal durante los reinados de Felipe II y Felipe III. Se centra para ello en el estudio de dos fuentes complementarias: de una parte la tratadísitca nobiliaria castellana y portuguesa. Paralelamente se analiza la documentación administrativa derivada de las informaciones de nobleza para los caballeros de hábito de las Órdenes Castellanas de Santiago, Calatrava y Alcántara. El estudio de esta segunda fuente ofrece la novedad de ser considerada como como un tratado de nobleza en sí mismo, partiendo del análisis de su estructura y de su evolución entre 1556 y 1621. Igualmente la comparación de ambos reinos, sobre todo desde la incorporación del reino de Portugal a la Monarquía Española en 1580, permite comprender los mecanismos y los agentes inmersos en la comunicación de lo nobiliario. Igualmente hemos podido analizar la influencia y presencia de los textos castellanos en Portugal . El resultado del estudio de las fuentes administrativas,que representan las pruebas de nobleza, como un tratado nobiliario es sin ninguna duda una aportación novedosa que nos ha permitido anlizar de un lado la presencia de lo nobiliario y de sus formas de comunicación. Comprobando las expresiones y la evolución de éstas a lo largo de los reinados de Felipe II y Felipe III. La evolución que la idea de nobleza experimenta a lo largo de ambos reinados en Castilla y Portugal permite establecer las coordenadas básicas que configuraron la evolución de la idea de nobleza asi como la acción de los agentes inmersos su codificación.[ABSTRACT]The thesis analyzes the evolution of the idea of nobility in the kingdoms of Castile and Portugal during the reigns of Felipe II and III, from a new cultural history and comparative history perspective.The analysis is based on the study of two complementary sources: the group of treatises of Castilian and Portugese nobility and administrative docüments pertaining to information about the nobility status of knights belonging to the Castilian orders of Santiago, Calatrava, and Alcántara. This second source offers the novelty of being considered a treatise on nobility itself starting with an analysis of its structure and evolution between1 556 and 1621. Similarly, a comparison of both kingdoms, especially since the incorporation of the Kingdom of Portugal into the Spanish monarchy in 1580, allows for an understanding of the mechanisms and agents involved in the formulation and dissemination of a nobility discourse. By the same token, we have been able to analyse the presence and influence of Castilian texts in Portugal. The result of the study of administative sources, which delineate "proofs" of nobility, as a treatise on nobility itself, is without a doübt an innovative contribution that has allowed us to analyse the presence of a nobility discourse and its forms of transmittance, verifying its evolution and expressions during the reigns of Felipe II and lI. The evolution that the concept of nobility underwent during both reigns in Castile and Portugal allows us to establish the basic principles that shaped the idea of nobility, as well as identify the actions of certain agents in its codification.
Description
Tesis de la Universidad Complutense de Madrid, Facultad de Geografía e Historia, Departamento de Historia Moderna, leída el 13-11-2008
Collections