Publication:
MEGARA. High-precision alignment system for gluing fibers and microlenses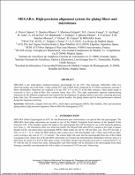 Authors
Advisors (or tutors)
Editors
Publisher
SPIE-Iint. Soc. Optical Engineering
Abstract
MEGARA is the multi-object medium-resolution spectrograph for the GTC 10m telescope. MEGARA offers two observing modes, the LCB mode, a large central IFU; and a MOS mode composed by 92 robotic positioners carrying 7 fibers minibundles. Microlens are required to fit the GTC f/17 to the f/3 at the fiber entrance, where pupil image is oversized to have a fiber-to-fiber flux variation better than 10%. This tight requirement imposed manufacturing tolerances for the different components and required the development of a gluing station to provide a centering precision better than 5μm. We present the overview of the optical bundles, the gluing station and the final performance obtained during the integration and tests.
Description
© 2016 SPIE. Artículo firmado por 14 autores & MEGARA Team. Conference on Advances in Optical and Mechanical Technologies for Telescopes and Instrumentation II (2016. Edimburgh/UK).
Collections