Publication:
Late Ediacaran-early Cambriangeochemical evolution of the peri-Gondwanan magmatic arc of the Ossa-Morena complex (SW Iberian massif)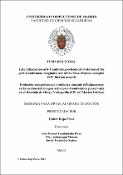 Files
Authors
Editors
Publisher
Universidad Complutense de Madrid
Abstract
In the Iberian Massif, the Ossa-Morena Complex and its prolongation in the NW Iberia allochthonous complexes represent the outermost section of the North African margin of Gondwana. This margin hosted a long-lived magmatic arc active at least between c. 750 to 500 Ma. The activity of this arc can be traced by sedimentary sequences deposited along the margin and igneous rocks generated during the arc construction, as well as by deposits generated during its progressive dismantling. The dynamic evolution of the peri-Gondwanan North-African margin from the Late Ediacaran to the Early Cambrian resulted in a complex tectonic configuration involving units with continental affinity and others of oceanic/transitional nature. This PhD Thesis presents the results obtained from the study of this margin section preserved in SW Iberia and suggests a possible geodynamic and petrogenetic model based on its geochemical and isotopic evolution. This peri-Gondwanan arc section is probably one of the best well-preserved in the Variscan Orogen. The results also include the identification of previously undescribed tectonostratigraphic units, and the detailed description of a new ophiolitic unit, the Mérida Ophiolite.The methodology used includes a structural study of the units implied in this section, whole-rock and isotopic (Sr-Nd) geochemistry, and geochronology (U-Pb ) of implied rocks. The study of the Merida ophiolite further included Hf isotopes in the analyzed zircons. The results have been published in journals of impact in Earth Sciences. In this sense, this volume is presented as a compilation of publications following a chronological and thematic order...
En el Macizo Ibérico, el Complejo de Ossa-Morena y su prolongación en los complejos alóctonos del NW de Iberia representan la sección más externa del margen norteafricano de Gondwana. Este margen albergó un arco magmático de larga duración activo al menos entre c. 750 y 500 Ma. La actividad de este arco puede ser rastreada por las secuencias sedimentarias depositadas a lo largo del margen y las rocas ígneas generadas durante la construcción del mismo, así como por los depósitos generados durante su progresivo desmantelamiento. La evolución dinámica del margen norteafricano peri-Gondwánico entre el Ediacárico terminal y el comienzo del Cámbrico, dio lugar a una compleja estructuración tectónica que involucra unidades con afinidad continental y otras de tipo oceánico/transicional. Esta Tesis Doctoral presenta los resultados obtenidos del estudio de la sección de este margen preservada en el SW de Iberia, y plantea un posible modelo geodinámico y petrogenético en base a su evolución geoquímica e isotópica. Se trata de una de las secciones de arco peri-Gondwánico mejor preservadas en el Orógeno Varisco. Los resultados también incluyen el reconocimiento de unidades tectonoestratigráficas no descritas hasta el momento, y la descripción detallada de una nueva unidad ofiolítica, la Ofiolita de Mérida...
Description
Tesis inédita de la Universidad Complutense de Madrid, Facultad de Ciencias Geológicas, leída el 15-12-2022
Collections